Over my years here at Brighton Savoy Hotel I have observed and worked with many different wedding booth companies, so I thought I would create a list of my some of the best photo booth companies in Melbourne for 2020.
My list is made up of different styles of booths, from conventional booths, mirror, open booths or Kombi Booths and even personalised magnets...
Don't be afraid to ask..,
Do you provide an operator to assist with the booth

What props do you supply?

Can the photos be customised with your name and wedding date?

What are the dimensions of the booth, and does it fit into your venue?
A photo booth is a perfect way to keep wedding guests entertained between the speeches and formalities. To ensure you are booking a fun, reputable and easy-to-use photo booth that fits your budget, read the vendor's customer reviews and arrange to view the product in person.
Ultimately when selecting your wedding photo booth, it's important to speak to the company and decide if what they have to offer in terms of packing and pricing meets your requirements. Your Photo booth will be available for the duration of your wedding reception and is on hand to capture your guests on one of the most memorable days of your life. 
Looking for the best wedding photo booth hire in Melbourne, Victoria? Look no further! So here is an A-Z ultimate list of wedding photo booth hire suppliers.
The ultimate list of Wedding Photo Booth Hire Suppliers in Melbourne, Victoria
AART Party Hire - Wedding Photo Booth Hire Melbourne 
0408 555 856
Glam Up Your Wedding Events With Our Amazing Photo Booth Hire Services!
Do you want your wedding to be the talk of the town? You got to hire a photo booth for your event! But wait, aren't we hiring a professional photographer already? Don't worry, and you do not have to replace a photographer with a photo booth! But it sure can make your ceremony extra enjoyable and memorable!
Shoot endless HD videos as well as selfies in a relaxed environment with endless re-take options. They can be shared on social network sites as well as watched at home in full screen on your high definition TV. Our photo booths also offer the benefits of instant Facebook uploads, integration with iPad apps and green screen technology. Anyone who wasn't able to make the wedding will instantly be able to see the pictures as they are uploaded to Facebook and shared with family and friends.
Last but not least, use these photos and videos taken and make them into gifts for the guests imprinted in keyrings, fridge magnets, mugs or canvas prints. 
Photo Booth Rentals For a Fun-Filled Party
When we plan any parties, events or our weddings, we always want them to be fun-filled and entertaining that our lovely guests will treasure forever. So, why not take the time and add our fun-filled photo booths too much more glamourous and entertaining!
Our photo booths are perfect for any style of the wedding ceremony and will allow your guests to indulge in a wave of never-ending fun that they will remember for ages. Fully loaded with many features and props, we ensure that your party is a hit and your guests have a smile when they leave.
Our Services
Photo Booths
Luxurious covered or open style Photo Booths
Party Hire Products
Popcorn Makers to Slush Machines for fun times
DJ Lights
Dazzling DJ light Systems
​to create a party environment
DJ Sound Systems
Party away with the best
DJ Sound Systems
BIRTHDAYS - WEDDINGS - ENGAGEMENTS - CORPORATE - FUNDRAISER or any other event. We cover them all!
Awesome Photo Booths
0421 786 968
QUALITY PHOTO BOOTH HIRE IN MELBOURNE
Photo booth hires in Melbourne can lead to interesting times, hilarious photos and wonderful memories. Add a bit of excitement and laughter to any event by calling in our services, available all across the region.
We've been around since 2013, providing the best and affordable, awesome booths to weddings, parties, corporate gatherings and many other events. We don't just have any old photo booth! We have open-style booths that can pack up to 15 people in one shot. You can gather all your friends for that one, perfect photograph that would last you a lifetime.
Why choose us for your next party booth hire?
We have the best studio quality equipment and lighting available. You'll always get the highest quality photographs in the industry from us. Whether your intention is to bring a little spice to your party, add playfulness to a boring corporate event or have memorable and unique photographs of your wedding, we can help. We use a number of interesting professional techniques to produce stunning pictures!
We also take steps to ensure each and every one of your guests look good in their photograph. Our affordable photo booth hire in Melbourne automatically adjusts the quality of the images. You can be sure that no photograph comes out blurry, unfocused or overexposed. Our software also automatically retouches the photos so that all your guests look great and glamorous.
In our 3 years of existence, we've handled over hundreds of jobs at several different events, bringing the fun with us wherever we went! While it's our aim that you have the time of your life in our photo booth rentals, you can expect the best, most professional service from our people. In fact, our work's been good enough to draw the approval of the Australian Bridal Service Association. We've been accredited and audited by them so you can trust that we're the best in our field of work.
Don't hesitate to bring some of our excitement to your next event! Our team would make sure that your day is very memorable!
For more information on cheap photo booth hire and mirror photobooth in Melbourne, please get in touch with one of our friendly and informative team. Call us or email info@awesomephotobooths.com.au We'll get back to you as soon as we can. We'll get back to you as soon as we can.
Photo Booths:
With Awesome Photo Booth, you have the option of whether you prefer an open or enclosed style, depending on the type of venue. We have made ordering easy, creating awesome package deals according to the amount of time you need to rent out our services. Some of the 'Awesome' package inclusions include booth assistant, customised text on photos, choice of colour and black/white photos for each print, black A5 sized guest book, prop box, black or red backdrop, and unlimited booth use and pre-cut photo strips. Portable, clean, handicap friendly, and affordable pricing, we go above and beyond the standard.
Roaming Photographers:
Every moment should be captured, and a photo booth can only be in one place at one time. We want you to get the most out of your event; this is why we provide friendly, experienced, and dependable roaming photographers to make the rounds at your venue. A roaming photographer's sole responsibility is to strategically meander throughout your event and take snapshots of all those epic moments the photo booth can't. Whether it is for a wedding, work event, or birthday party, too many memories have the potential to go undocumented. Still, our roaming photographers vow to make you feel like a rock star by capturing all the best sides of your special occasion.
Flower Backdrop:
Not too sure about only having the option between a black or red backdrop for your photo booth? We make sure to provide you with as many options as possible, which is why we have dedicated a lot of time and effort into developing our flower backdrops. A recurring theme at all events are flowers, so in order to best accommodate you, we have developed a multitude of flower backdrops. With a seemingly endless supply, we guarantee to provide you with a wonderful flower backdrop that will pair perfectly with the event you are hosting. Whether it is a particular flower that you are searching for to match a wedding, a specific type of seasonal bloom for a birthday party, or a significant blossom for a baby shower, we guarantee to find the perfect backdrop for your customised photo booth.
Instagram Printers:
A trend that is sure to catch fire, Instagram Printers are all the rage at events, so we make sure to provide you with these! What is the concept of an Instagram printer? These special printers will be programmed with a hashtag or location of the event coordinator's choosing and then connected to an Internet source. It then has the opportunity to link up with Instagram and searches for the programmed hashtag or location. As it finds these photos, it will then print them out. Essentially, this replaces the old 'disposable camera on the table' trend that has been a popular feature at events, and instead, provides you with instant memories that are sure to last a lifetime.
Wedding Photo Booth Hire:
Awesome Photo Booth in Melbourne has come to specialise in wedding photo booth hire, making the process unbelievably easy, cool, and unique to every wedding we do. You have the option to customise your cheap photo booth hire to your exact specifications whether it be the backdrop, wording on the photos (wedding dates, bride and groom names, etc), guestbook, and the type of pictures that print out for guests (black and white or colour). Even better, your guests are guaranteed to pile into space and try on a wide array of props from our prop box, meaning you and your guests will be left with a lifetime supply of laughs and memories from the most special day of your life.
Kapture Booth -
Wedding Photo Booth Hire Melbourne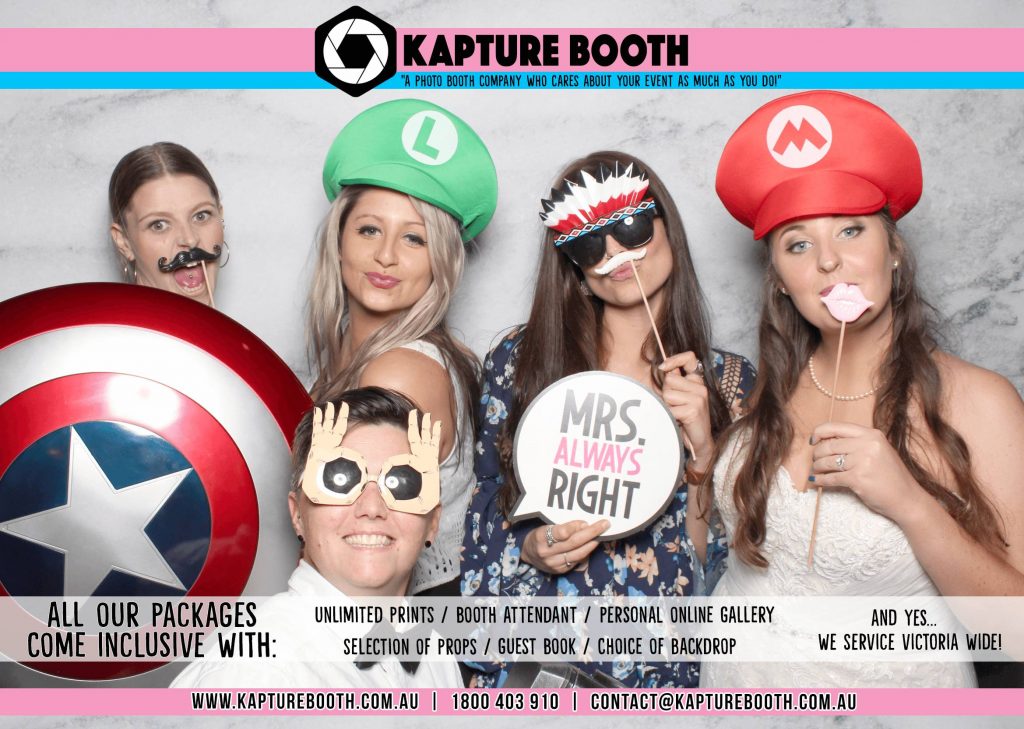 1800 403 910
Affordable Photo Booth Hire in Melbourne and Gippsland for Weddings.
Now, are you looking for a Photo Booth Hire with a difference? A Business in Melbourne who will go above and beyond your expectations to make sure that every single last detail of your event is perfect? A business who cares about your event as much as you do yourself?Well, that's us at Kapture Photo Booth Melbourne, Gippsland and Yarra Valley's most Affordable Photo Booth Hire Company!
It's absolutely no secret that a Photo Booth is fast becoming a must-have item at any Wedding, Engagement, Birthday or Corporate Party these days – Trust us we've done hundreds of various events across Melbourne, Gippsland and well, Victoria in fact!
It's all pretty simple really – You want super amazing photos, your guests to have an insanely awesome good time and for it all to be well within your budget. Planning any type of event takes a lot of work, so we've done the hard work for you already - No hidden costs, unlimited prints on the night, you get a digital copy of the files and we supply everything else you need.
We've got a huge range of our Open and Enclosed Photo Booth Hire packages, there is simply an option to suit any type of event that you have in mind. Some of these include:
Retro Open Photo Booth
Mirror Me Photo Booth
GIF Photo Booth
Caravan Photo Booth
Roaming Photo Booth
Enclosed Photo Booth
Boom. We've just made life easy Melbourne. You're welcome!
Speak with one of our friendly team members on 1800 403 910 or get an INSTANT Online quote now at WWW.KAPTUREBOOTH.COM.AU
Bear Booth - Wedding Photo Booth Hire Melbourne
0410 105 541
Photo booth hire from the Mornington Peninsula to Melbourne
Planning a special occasion? Organising your wedding? Wondering how to get your guests to unleash their party animal alter-egos and inject some serious fun into your event? Why not rent our open-air photo booth to help capture all the fun and spontaneous moments of your party? We provide instant photo keepsakes, GIF, Boomerang files and hours of entertainment for party guests. From wedding receptions and work parties to corporate functions and school formals, Bear Booth caters to all kinds of festivities servicing the Mornington Peninsula to Melbourne.
So for your next Photobooth in Mornington or Photobooth on the Peninsula give us a call.
Planning your wedding? Wondering what this photo booth business is all about? Come along to a wedding expo! It's your chance to talk to us in person, have a squiz at our different photo strip layouts, photo album guest book and our range of photo frame bonbonnieres. Most importantly it's a great opportunity to give our open-air photo booth a spin and see how it all works. You can also take advantage of our special wedding expo promotions! 
next-generation photo booth
Bear Booth was created by a brother-sister team who took pride in delivering superior customer service and the best photo booth experience out there! They custom-designed and built Bear Booth's open-air photo booth and loved adding fun and shenanigans to life's celebrations spanning across the Mornington Peninsula and Melbourne.
As from September 2017 Peter from DJ PeterD Entertainment Plus took over our business and he has employed Chantelle to help run the events.
Boothability - Wedding Photo Booth Hire Melbourne
0488 068 128
Affordable Photo Booth Hire in Melbourne
We pride ourselves on premium photobooth experiences that don't break the bank.
Our Booths
Open Air Photo Booth
Our photos booths are a hit for every occasion. Delight your guests with fun momentos to remember your event forever.
Delivery, set up & removal

Friendly booth attendant

Unlimited prints

Props

Custom message/print design

Digital copies of photos

Social media sharing

Touch screen
Hashtag Photo Booth
Grow your social audience and increase brand exposure online by offering visitors free branded polaroid prints.
Delivery, set up & removal

Friendly booth attendant

Unlimited prints

Custom booth branding

Branded backdrops

Custom message/print design

Digital copies of photos

Live stream
Wedding Photo Booth Hire Melbourne
On your special day let Boothability offer you & your guests a fun way to capture the evening's festivities!
Planning a Wedding or Getting Hitched!?
Investing in a wedding photo booth hire service is probably the best decision you can make. In fact, it is just what every wedding reception needs to spark up some wedding vibrance.
Weddings are such a romantic and memorable event, and a wedding photo booth hire is a perfect way to keep your guests entertained during all the euphoria and formalities.
In fact, if your guests aren't on the dance floor or at the dinner table, you'll most likely find them taking fun, quirky selfies at the photo booth.
With our wedding photo booth hire services, your wedding will definitely be at the top of conversations for a very long time - and your guests will have unlimited memorable photos to prove it!
So, if you're planning a wedding in Melbourne, let Boothability take it to the next level!
Hiring a Wedding Photo Booth with Boothability
Our photo booths provide unlimited, high-quality and custom-themed prints leaving your guests with something special and designed to last a lifetime. At the same time, we put glee in taking the perfect snapshots with our fun wedding photo booth props.
Many of our customers have been left exceptionally satisfied:
Many boasts having a great time with our photo booths and props.

Able to capture and share their special moments across social media, as well as receive unlimited creative design prints with custom messaging!

Affordable and easy-to-use touch-screen photo booth.

Stress-free set up thanks to our professional and friendly attendants.
Get in touch and let us know what we can do to make sure your wedding day photo booth is exactly what you're after. 
We will happily source backdrops and props to put a smile on your dial on your big day!
Cheapest Photo Booth Melbourne
0407487281
Cheapest Photobooth Melbourne – Hire Photo Booth for Birthdays, Weddings, Parties & Events
Looking for a Cheap Photo booth hire in Melbourne? Looking for quality photo booth hire for an affordable price? Here is why you should call Cheapest Photobooth Melbourne.
When you are on a budget and are looking to add a bit of fun, excitement and entertainment to your next event, consider booking with Cheapest Photobooth Melbourne and with lots of party props. Hence, your booth photos are the best memories you and your guests will take away from your Wedding, Birthday or any other event or party. We provide the best value-for-money photo booths in Melbourne.
Who is Cheapest Photobooth Melbourne?
Started in 2017, we have grown very quickly to become one of the biggest photo booth companies in Melbourne. We have a fleet of Mirror and Open photo booths. Our customers hire a photo booth from us for many events like Birthdays, Weddings, Anniversaries, Corporate Events, Company Parties, Office Christmas Party Photo Booths, Concerts, etc. Most of our work comes through referrals because people love our photo booths when they see it at their friends, family or company events and parties.
Our customers love the fact our photo booths are so simple to use, the booking process is very easy and best of all they get the cheapest price when they hire a photo booth from us.
You can see our Google Reviews here. Over the short span of time, we have already delivered hundreds of happy smiles and funny poses at our photo booths. We don't just bring photo booths to your event, with our props, customised print designs, friendly staff and best photo quality we bring a lot more excitement and fun to your event.
Our Awesome Photo Booths are the answer to your question how can I make my party fun for everybody?
Mirror and Open Photobooths for any Occasion
Cheapest Photobooth Melbourne provides both Mirror and Open Photobooths. We have a fleet of 6 photo booths that we provide in Melbourne.
Our Mirror and Open Photo Booths both use a DSLR camera and touch screen to provide you with the best quality, professional photos at your events and parties. Our photo booths use flash lighting, which is built into the booth to provide you with quality photos, even in dark places like nightclubs and function halls.
How to Get Customised Design Prints or Personalised Photo Strips?
As a part of our packages, we offer your customised prints or custom photo strips for all our hire packages across all our photo booths. We provide you with a gallery of our ready templates, or we can design one specifically for your event.
Once you place an order, we consult with you to understand your event theme and venue decor, etc., to come up with a custom design for prints and photo strips. Many people assume just because we are budget photo booth hire company in Melbourne we don't provide this service.
We believe in smart, lean and efficient business processes, and that's why we can provide custom design prints and photo strips to all our customers. Most of the time, our customers leave it up to use to provide them with some custom designs that work for Some of our popular designs include the 'Black & Gold', 'Denim Theme'.
We believe in providing quality service at best prices, and that includes almost all inclusions that you might get from any other photo booth company in Melbourne, including custom design prints and customised photo strips.
Affordable Photo Booth Rental with Awesome Fun Props
Fun awesome props are one of the most important things that make a photo booth experience memorable. At Cheapest Photobooth Melbourne we are always on the hunt for unique fun props. In fact, we enjoy shopping at all the local shops looking for interesting props for our customers. Our unique collection has enabled us to create photo booth themes in line with your event theme. Like we provided some awesome fun photo booth props for a Japan-themed Birthday party. One of the most common themes we have catered for is the Masquerade event.
Amazing Features of our Photo Booth
With features such as photo filters, instant print, height adjustment, and a very wide range of party props we ensure you and your guests are having loads of fun at your party.
All our photo booths are simple to use, they all come with a touchscreen, so you touch the screen. It gives you a countdown, so you're ready with your glamorous pose and a fun prop to take a picture and then choose if you wish to print the photo or share on social media simply email yourself from the touch screen photo booth itself. 
We provide a professional and friendly service to all suburbs of Melbourne. All you have to do is give us a call to get a cheap photo booth rental for your next event.
Hire Photo Booth for Weddings in Melbourne
Taking a look at the wedding photographs taken by your photographer or guests is a great moment after a wedding party but are there any fun photo or yourselves or your guests in there? Why not hire a wedding photo booth to make sure your guest enjoy the day along with you. The chances of you seeing the pictures of everyone at the party is slim when you go round to see what they have snapped.  You will see only a few pictures of your guests. Like photos,  guests also give the couple keepsakes like books with congratulations and good wishes written on it after the reception. What if you have the chance to put these things together in a way where everyone can share it? Hire a photo booth for a wedding, and you have your chance.
Cherish Photobooth - Wedding Photo Booth Hire Melbourne
0422772371
Professional Photo Booth Hire Melbourne
Capture your cherished moments at your next special event!
WEDDINGS
Our Showtime Mirror Booth & Inflatable Booths are a perfect addition to your wedding venue, ensuring you capture all the fun on your special night!
PARTIES
Planning on throwing the best party ever? Choose from a range of photo booth styles to perfectly suit your event.
CORPORATE EVENTS
Our booths are sure to provide endless hours of entertainment for all your corporate functions.
Our Booths 
Open Air Booth
Our open booth offers an inviting & fun atmosphere, flexible to work within your event space.
Customise your look with a choice of our wide range of 8x8ft backdrops to suit your event!
Suitable for events with large group sizes & group photos!
Enclosed Photo Booth
Whether it be for a Wedding, Engagement, Birthday or any sort of event, our Enclosed booths are a great way to capture all the fun! The traditional Photo Booth look is perfect for all occasions and venues. We offer this booth with choice of Red, Black & White curtains.
Inflatable Photo Booth
MAKE AN IMPACT AT YOUR NEXT EVENT WITH OUR GIANT 3 METER INFLATABLE!
Daisy's Photobooth - Wedding Photo Booth Hire Melbourne
0421 333 089
To add a slice of fun, amusement and excitement to your events, consider hiring Daisy's Photobooth. We are budget-friendly and pay attention to all your needs when it comes to hiring the most reliable photo booths for any of the events. We know what it takes to capture "memories" of the events. With so many party props, we make sure that our photo booths are able to provide you with the best memories of the events — individually or in groups. We unfailingly cater to all your photo booth requirements. Hire us for the splendid looking open style photobooth in Melbourne for any of your events.
WHY DAISY'S PHOTO BOOTH
Here are our top reasons why our photo booths are different from the others.
An amazing feature from our photo booths is that the photo booths can be adjusted for height! So it doesn't matter if the event is for kids or adults.

Our photo booths are automatic and very easy to use with a huge range of fun premium props.

The photo booth itself is compact and doesn't use lots of space.

We have one of the most modern photo booths available due to their industrial build, reliability, and highest quality provided.

We also use industrial printers, the same used at Office Works and Big W. – one of the best brands in the market. Huge 15-inch Colour Touch Screen, Easy to use!

We ensure our customers are pleased with the fun and exciting photo booth services we have to offer.

We are friendly and strive to provide professional services, irrespective of the type of events we are being hired for.
Photo Booths for Weddings
Photobooths make the perfect 'recipe' for your wedding events. With the amazing backgrounds, stylish decor and design and the group of enthusiastic boothers, we make sure that at the end of the day it becomes the 'wedding delight' to be cherished for the lifetime. With the group or as an individual, you can get into the spacious room for the gorgeous looking snaps clicked in style.
We have been in this business for a few years now, and we know what our client require to give them that special moment.
The open style photo booth session at a party. The setup consists of a portable open style photobooth DSLR camera, 15-inch colour touch screen for viewing shots immediately, HI-TI industrial printer that office works and Big W use for printing photo strips.
Our photo booth will give your guests a great source of entertainment and leave you with tons of fun captures of the people who came to your event. The goal of this article is not to knock the tried-and-true classic photobooth that we all grew up loving to play with at the mall, but to offer ways how the new, modern open, studio-style design takes a great, classic idea and adds TONS of potential!
Epic Party Hire - Wedding Photo Booth Hire Melbourne
1800 463 741
INNOVATIVE PARTY EQUIPMENT HIRE MELBOURNE & SYDNEY
Conveniently operating across Melbourne and Sydney, Epic Party Hire offers a personable service that is designed to deliver fun and hassle-free experiences. Thanks to our mobile business solutions, we've established a name in success, providing clients with a seamless process for finding party equipment hire Melbourne & Sydney that is as innovative as it is affordable. With giant light up letters, photo booth hire Melbourne and so much more at your fingertips, planning an epic party is a breeze. Not sure where to start? Kick it off by contacting us.
Bundle Package
WEDDING DAY / ENGAGEMENT
3 x light-up LED letters OR LOVE in 1.5mtr OR LOVE in 1.8mtr Plain Gloss - $570
Instagram Printer OR Photobooth Unlimited Unattended - $700
RRP$1,270

SAVE$275

PRICE$995
EVERYTHING YOU NEED FOR AN UNFORGETTABLE EVENT
Epic can make your next event the talk of the town. We can help you transform your office, backyard or function venue into a space that will have passers-by peering in with jealousy. We provide creative party hire solutions for private, corporate and large-scale events, specialising in the fun and unique elements that bring style and entertainment to any occasion. Whichever products you choose, we promise that they will create an atmosphere of joy that engages your guests from the moment they arrive.
STYLISH PARTY EQUIPMENT HIRE SYDNEY & MELBOURNE WIDE
Are you tired of looking into every minute detail of party planning? Do you want to avoid buying expensive props that you won't use again? The solution to both these problems is Epic Party Hire. We're here to provide you with whatever you need to make your next party a huge success. We arrive on time and set everything up with no fuss at your chosen function space. We'll show you how to use your photo booth or jukebox machine, and can even stay the whole night to make sure everything runs smoothly.
WE'RE ALL ABOUT CREATING AND SOURCING INNOVATIVE AND STYLISH PRODUCTS FOR ALL YOUR EVENTS NEEDS
We want to help you create that Epic event, whether you're saying I do, creating the perfect product launch or celebrating a milestone event in your life – we want to provide the best event hire products to ensure the perfect day.
With over 10 years within the industry, you could say that we're the one-stop-shop for all your event hire needs, and our experienced team are based in Melbourne and Sydney and also source outer areas.
So give us a call or shoot us an email, we're around and waiting to help you make your event Epic.
NOTHING COMPARES TO THE EFFECT THAT AN EPIC PARTY HAS ON AN EVENT
The entertainment provided creates an unforgettable experience for your guests and an event that will be remembered for all the right reasons!
Here at epic party, we have over 10 years experience in the party hire industry. As a professional, Family built and run business, we believe in quality, not quantity and can guarantee, Reliability and the best service possible to ensure every customer is 100% satisfied.
We are an industry leader in innovation and choose to only offer the best value must-have products on the market, whichever of the products you choose we promise that they will engage your guest from the moment they arrive and create a mood and atmosphere that can only be enjoyed.
Fedora Productions - Wedding Photo Booth Hire Melbourne
+61 458 333 670
Photo Booths
The perfect way to capture fun memories of your event! We have photo booth packages to cater for all party needs, whether it be a Wedding, Corporate Event, Birthday party, or School Formal. You can choose from our open-air or enclosed booth options, all with quality and fun props to keep your guests entertained. Our photo booth packages are all-inclusive, which means no confusing extra costs.
Who we are.
Passionate, Experienced, Professional.
How we work.
Passionate.
We here at Fedora Productions love what we do. We have the opportunity to work our dream job in an industry that has no boundaries or limitations. This enables us to consistently be creative in all aspects of our fields which allows us to give you an experience that will exceed your expectations.
Experienced.
With over 25 years of experience, you will not be disappointed in our services from your initial enquiry with us, right through to the follow-ups following your event/function. We are highly experienced in all aspects of our fields from DJs to MCs, Photo Booth attendants to Photographers, Audio Engineers to Lighting Technicians.
Professional.
We take extreme care and pride in our work. There is no stone we will leave un-turned as we go through every detailed element of your function or event to make sure it is perfect and exactly how you want it. We will be at your event on time, well presented and with great enthusiasm. Our aim is to make you feel relaxed that your day is in good hands.
In The Booth - Wedding Photo Booth Hire Melbourne
13 000 26681
Welcome to In The Booth
We're so pleased you dropped by on your photo booth hire journey!
Saturday night dances. Drive-in movie theatres. Seaside arcades. And above all, photo booths. If you've ever squeezed into a booth at your local arcade together with the boy or girl of your dreams and pulled the curtain closed, you'll understand the joy. Maybe you have a dog-eared, black and white photo booth strip tucked away in your wallet as a memory from years ago. If so, you'll understand the nostalgia. If you've ever experienced an In the Booth photo booth, we hope you understood the heart behind our company.
Don't you find it's indeed the simplest things in life that bring the most joy? For instance, you haven't seen joy until you see your guests of all ages collect their 'magic' photo booth prints! Your wedding or special event entertainment needs to be comparatively simple for your guests. Undoubtedly, they're excited! They're in a room together with friends and family. In short, our booths harness the excitement with entertainment that will keep them coming back for more all night long!
In the Booth Photobooths
Hire a photo booth, old school style.
Hire a photo booth with In the Booth, and you're guaranteed, without a doubt, a solid-walled, enclosed booth! Every booth in our network is identical to the images you see on our website. No confusing options, colours or styles. Just striking, classically styled booths that command attention in any venue.
We're tried and true believers in the magic that's created behind the curtain. An enclosed booth provides privacy for your more reserved guests. Imagine stealing a moment to yourselves as a newly married couple! The privacy of our booths will encourage even your shyest guests to go to town with creativity.
After all, what's photo booth hire without the booth?
All-inclusive experiences.
We have gone to enormous lengths to ensure there are no weak links when you hire a photo booth from In the Booth.
The stunning physical appearance of our award-winning booths is only rivalled by the quality of images they produce. Our photo booths seamlessly combine a dash of retro style with the latest imaging equipment and software.
Based on our background in the photographic and event industries, we designed our booths around our imaging requirements and not the other way around. In other words, professional digital SLR cameras capture all image and video-based experiences – not web cams, low-quality digital cameras or iPads. We are proud to stake our reputation on our high-quality images thanks to our diffused studio lighting.
Our enclosed booths create a controlled environment which ensures other lighting sources at your venue don't affect the quality of your instant prints. Our booths also double as a mini sound stage so the audio for your video messages can be captured in crisp, high definition. All your images and videos are then provided in our gorgeous USB folio.
With In the Booth, what you see is what you get. No unsightly technical equipment, lighting towers or separate print stations. The booths are strong enough to withstand even the most 'festive' moments! Our gorgeous booths conceal everything they need to operate in one sleek package.
Not all photo booths are created equal.
Two heads don't make a party, right? Our booths can easily accommodate six to eight people in comfort (and often many more!). The generous size of our booths allows us to capture the atmosphere and not just your guests' faces. After all, there are some details you just won't want to miss. Our booths capture full-frame images which, as a result, captures more of the action!
Moreover, we don't believe in using stock images or content. Each and every image on our website are real photographs, from genuine photo booth hire events, taken by our unique booths.
Vintage on the outside, modern on the inside.
The first thing to remember about In the Booth is that our booths only appear like a vintage booth! Rest assured they are very modern on the inside. Prior to designing our booths, we researched the most classically styled vintage booths we could find. We wanted our booths to stand the test of time and look gorgeous for the long term.
We're passionate about the history of photo booths and how they have been entertaining the public since the 1920s. Traditional photo booths used film coupled with chemical developing to create the 'magic' of instant photos. Today we've replaced the chemicals with cutting edge digital technology, such as our exclusive app (we guarantee you won't find another one like it!).
Our Photo Booth Hire Mission
Without a doubt, In the Booth's goal is to ensure the timeless appeal and unique joy that was first experienced inside a photo booth in the 1920's lives on.
Our purpose is to capture irreplaceable memories at once in a lifetime events for clients that have placed their trust in us. Moreover, we believe that celebrations are an essential part of life. Finally, long after your wedding cake has been enjoyed, your colleagues have celebrated the year that was or the birthday candles have been blown out, we want you to savour that day through treasured photographs.
Why Choose Us?
We pride ourselves in authenticity. Every image you see on our website contains real people, at genuine events, captured by our unique booths. In contrast to some photo booth hire companies, we won't promise what we can't deliver.

We are specialists at what we do. In the Booth began from the desire to offer event entertainment that exceeded all expectations. Consequently, we have been providing premium photo booth experiences for our clients and setting the bar high for our industry since 2009.

Dedication to excellence. Each and every one of our products has been painstakingly designed to create an unforgettable experience for our customers and their guests. We achieve this by keeping our eyes firmly on the customers we serve.

The real deal. We don't believe in making empty claims about our service, which is why we encourage our past customers to speak louder than we do. Please view our testimonials, check out our trophy cabinet, drop by our Facebook page or visit our live reviews on Easy Weddings for more information.

We're certified Australian Made & Owned. We design, build and deliver services made by Australians, for Australians. In fact, being Aussie made and owned is so close to our hearts, we're certified with the Australian Made & Owned Campaign.
Jimbo's Amazing Photobooth
0402 134 289
Hire Melbourne's Most Amazing Photo Booth since 2010! Prices start from $440. Melbourne Photo Booth hire for Parties, Weddings & Corporate Events. Let's go Crazy with Jimbo's Amazing Photo Booth.
Jimbo's Amazing Photobooth is Celebrating 10 years in the Photobooth Industry. 2010-2020. Thank you, everyone, for your love, support and recommendations. Jimbo's Amazing Photobooth would not be here without you. THANK YOU!
PHOTOBOOTH HIRE MELBOURNE
What are you waiting for? Hire Melbourne's most Amazing Photobooth for your next event now!  Let's Go Crazy with Jimbo's Amazing Photobooth. Grab a prop, strike a pose. BOOM! Photos print instantly. Share your Amazing Photos with Jimbo's Social Media Sharing Station & Go Viral. Guaranteed fun all night long. Celebrating 10 years of photoboothing in 2020 for Weddings, Parties & Corporate Events. Hire Jimbo's Amazing Photobooth now!
Jimbo's Amazing Photobooth will snap Amazing High-Quality Photos all night long. All packages include unlimited prints, Crazy Props, Gallery upload, Attendant & Customised Prints. Wedding Package goes for 5 hours and includes a Guest Book.
WEDDING PACKAGE
5-hour Photo Booth hire & an 80 page Black Dry Mount Album with Protective Cover. Jimbo also supplies Metallic pens and sticky stuff.  Photo Booth is set up before the reception begins. Also includes a password protective gallery and SMS social media sharing station.
PHOTO BOOTH PACKAGES INCLUDE
Lot's of Crazy Props

Jimbo The Photobooth Attendant

Unlimited Prints. Plus reprint button

Customized Branded Photos

Amazing DSLR High-Quality Photos

Social Media Sharing Station

Optional - FACEBOOK Gallery Upload

2x 2"x6" Photo Strips or one 6"x4" Print

Online Password Protective Gallery

Photo Booth Hire Melbourne
Lavides Global - Wedding Photo Booth Hire Melbourne
0417 399 278
Specialising in Photography & Photo Booth Services Across Melbourne
Are you looking for a reputed service provider in the field of photography and photo booth hire in Melbourne?
Bank on the services by LAVIDES GLOBAL.
We are the boutique photography studio experienced in providing you with magazine-quality portrait and wedding photography in Melbourne. We also strive to provide you with the best photo booth experience you have ever experienced. If you are interested in family portraits, bridal portraits, engagement photos, wedding photography or high school senior pictures, then contact us. We are always there to provide you with memorable shots that will be hard to forget.
Cheap Photo Booth Hire in Melbourne for Weddings, Birthdays & Corporate Parties
Want to make your event special and keep your guests entertained? No matter what the occasion or how the venue is, you can party anytime while adding fun with photo booth hire Melbourne. At Lavides Global, you will find photo booths in Melbourne for all your events like birthdays, wedding, christening, corporate events, private parties, and so on.
Type of Photo Booths that We Offer:
So, be it your wedding, milestone, birthday, engagements, anniversary, a reunion, baby shower – we cover a number of celebrations of life that you will love to cherish later. We offer two types of photo booths for wedding and birthday parties in Melbourne. One is Mirror Me Photo Booth, and another one is Open Photo Booth.
The mirror photo booth comes with a full-length built-in mirror and DSLR cameras. You could choose either of them at any place you want to provide fun along with high-quality photos at the party.
Our open-air photo booth is a popular choice among a number of customers. The photo booth can be placed at the corner of the living room or outside under the alfresco or the veranda. It is ideal to set at small as well as large space.
However, our mirror photo booth is in demand to be installed in places like restaurants, function halls or community centres. Here the guests can enjoy the privacy for making funny faces in front of the camera without involving unnecessary crowd at the background. When looking for wedding photo booth hire in Melbourne, you can opt for mirror photo booths to entertain your guests.
Fun Props For Themed Parties:
Our experts slay it by delivering photo booths matching the theme of your event. Upon asking, we can add various photo booth props like virtual props, animations, or messages to ensure you have a great moment with our cheap photo booth for hire in Melbourne. So, tell us your party theme, and we will arrange the props accordingly. We can also customise your photo strips to make it look awesome.
We Make Sharing Easy:
With our photo booth, feel free to share pictures about your photo booth experiences in your email, Facebook or Instagram with ease. You will get unlimited photo printing in available packages and handover some keepsakes to your guests.
Lavides Global is fully committed to do their best and make an event a complete bash. Our success is attributed to our inexpensive cutting-edge product range that ensures a perfect solution to any occasion when gets combined with end-to-end customer service. So if you are looking for birthday photo booth hire, wedding photo booth hire, or photo booths for corporate events or other occasions, we are here to provide you with the best photo booths for hire in Melbourne and surrounding regions.
Who Are We?
Lavides Global is the reputed name in photography and photo booth service in St Kilda, Werribee, Footscray, Doncaster, Dandenong, Brighton, & other Melbourne suburbs. We offer you:
Photography
Capture the special you in front of mirror photo booth or open-air photo booth. With effective props, lighting, and backdrops, we ascertain that every pose of yours become a memory.
Printing
Bring back memories back home. Print your snaps on professional-grade photo paper that has the ability to hold the memory for long.
Photo Booth Hire
With an automated, technologically sound photo booth, we help you to capture high-quality photos with added features. We ensure you get a fantastic photo booth experience for every event.
Magnet Me - Wedding Photo Booth Hire Melbourne 
1800 94 09 00
Instant Photo Magnets at Weddings & Events
GIVE YOUR GUESTS MORE THAN MEMORIES TO TAKE HOME
Instant Photo Fridge Magnets:
Your guests will love to take home something to remind them of the beautiful moments they witnessed at your Event. Best of all, your memories will live on forever as these photo magnets will be placed directly onto their fridge! 
Melbourne based Magnet-Me is a photo booth alternative.
Our instant photo magnets are the perfect addition to your event! Whilst they are a fun and memorable keepsake, they also can be used as a "thank you", and you just wait and see how everybody will be thrilled and excited to have their photos taken into instant photo magnets! They will be chatting about their photo magnets well and truly after your event. 
Our photo magnets are of great quality. You're assured that they won't wear off for a very long time. You'll surely have them with you for many years and will love looking back and remembering your special event!
Cherish the moments that matter most through photo fridge magnets that you can share with people close to your heart. They'll surely love it!
PHOTO MAGNETS – PERFECT PERSONALISED BONBONNIERES FOR YOUR WEDDING
Wedding Bonbonnieres Ideas: Weddings are one of the most beautiful times in a woman's life – and a man's, too. It's one of the major events in a person's life that is filled with all the capture-worthy, picture-perfect moments that any event photographer just can't get enough of. Be it from the couple themselves, their families and friends, or the rest of the guests.
In magical moments like these, you need to have everything well-documented for you and your guests to remember that day easily. And we can add to your magical moment!
Magnet-Me knows exactly what you need for your wedding, and that is a bonbonniere that can preserve all the beautiful memories in one photo – a photo magnet, to be exact!
One of the best weddings favours to opt for is the photo magnet. Not only are photo magnets unique personalised bonbonniere, but they are also classic mementos that your guests will want to keep and cherish forever. Guests love getting snapped by our talented photographer – much more professional than a regular Photo Booth!
Our years of experience and our passion for our craft has gained us the trust of our clients that we will deliver the best quality of photos. The joy that we bring to you when we perfectly capture those moments is what drives us to give only the best because your special day is worth it!
HOW WILL PHOTO MAGNETS WORK FOR YOUR EVENT?
Step 1
You will work closely with our graphic designer to create a suitable frame for your photo magnets. We also have a variety of frames for you to choose from our frames page. To personalise your magnets, alongside with your chosen frame, you may also select a suitable font to match the theme of your event.
Step 2
At the event, our professional photographer will roam around the room, capturing live event photos of you and all your guests throughout the event, enjoying and celebrating the night away. You and your guests will love having your photos taken, knowing they will be transformed into event photo magnets instantly.
Step 3
Once your photos have been captured, we will print the photos on high-quality photo magnets. Every 20 minutes, we will display the printed magnets up on our magnetic board. The magnetic board will be placed in a central location for all to look for their photo magnets and take away a memorable keepsake from your event.
Step 4
At the conclusion of your event, you will receive a package of magnets for yourself as well as a USB with all the photos we have taken in high-resolution.
Photo magnets are souvenirs your guests will keep and cherish.
These souvenirs are a very unique way to thank your guests and leave them with an everlasting memory which will literally stick (on their fridge) forever!
Master Party Hire - Wedding Photo Booth Hire Melbourne
masterjumpingcastlehire.com.au
0450 065 281
Affordable Photo Booths for all your big and small events
We believe that hiring a photo booth should not cost you an arm and a leg. That is why we provide a basic photo booth for someone who doesn't need a lot of hoo haa for a basic price; while adding optional extras for someone who would like to go extravagant.
We capture memories and smiles. Our photo booth rental service is interactive and fun ideal for all kinds of events. Give your guests the gift of bringing home wonderful memories with these unique keepsakes. We can guarantee a hassle-free, fun and memorable experience on your special day, and Photo Booth is an ultimate place for picture taking where guest can go wacky, serious or formal. Photos will be printed, which will serve as a souvenir for the guest.
Open Photobooth
Delivery, set up and pack down

Digital copies, USB

Unlimited double prints

Awesome props

Custome Stips

GIFs, Videos

Green Screen

A friendly supervisor on site
Curtain Photobooth
Delivery, set up and pack down

Digital copies, USB

Unlimited double prints

Awesome props

A friendly supervisor on site

Album of Memories

Red Carpet and bollards

GIFs, Videos, Greenscreen
GIF Photobooth
Delivery, set up and pack down

2 to 8 hours hire options

Digital copies

Digital props

GIFs, boomerang effect

GreenScreen

Instant online sharing

A friendly supervisor on site
Master Party Hire is a Melbourne Based Party hire company. It's all about you. We want to help you make your party or event even better by offering you our competitively priced products.
Melbourne Photo Booth Hire 
+61 449 154 095
We provide photo booth hire Melbourne people to enjoy and trust. Hire open photo booths for functions, corporate events and brand activation. Also, our photo booth hire suits occasions where selfie booths, photo tablets or green screen photography are needed. And photo booths will provide the images you are after. Additionally, you can create GIFs, video, custom artwork montages and more.
The benefits you get when you hire a photo booth are many, as outlined in this study of the value of photo booths at events and solve the problem of appointing a photographer.
When you hire a photo booth, an operator is present to guide guests and ensure everyone gets their picture taken. Custom props, backdrops and branded graphics ensure your social media engagement factor soars.
Transform your party, dinner or brand activation with our cute and fun photo booth Melbourne people love. Also, B2C talks about the benefits of being on social media. Read their thoughts about social media marketing and learn of the advantages.
Photo Booth Hire for all Occasions
We have photo booths for hire for all occasions and events.
From a low-key family event to a tectonic-plate-moving brand activation one of our open photo booths for hire will create endless pictures, gifs and movies to make sure your event is a stand-out for all the right reasons.
This includes parties and weddings. Also, iPad photo booths are a great way to liven up any party.
Additionally, they provide people with more ways to mingle. Read our guide on how to maximise your photo booth time.
Photo Booths Are People Magnets
What's not to love about photo booths?
They are people magnets.
Also, they are low maintenance. In fact, today's GIF booths, and other open photo booths are super simple to operate.
Weddings
Your wedding should be a day to remember, and it will be with one of our fabulous wedding packages.
Elegance for all occasions
Our photo booths are fully customisable as well as featuring a range of beautiful bespoke backdrops, templates and accessories. Whether you're after a touch of class or a bit of sparkle, we've got the magic, all you need is the spark.
Options
We have a large range of photo booth options to choose from to suit your wedding needs! Whether it be our gorgeous Mirror Booth or Social GIF booth, you'll be set for a memorable and fun wedding day!
Customised Template
We have a massive range of beautiful bespoke photo booth templates to choose from, or we can match your wedding stationery for you!
Outrageous fun for the whole family
Our photo booths are easy to use and make an excellent icebreaker! With options for digital sharing, prints, gifs and boomerangs, plus an exciting range of props, there's something for all of your guests to enjoy!
Unlimited sessions through the booth
There is no limit to your love, and there's no limit to your photos either. You can visit the photo booth as many times as you like, and each session provides at least two prints and unlimited shares. Nobody will feel left out of your special day!
A day to remember
A beautiful keepsake guestbook is included in every package so that your friends and family can show you what a wonderful time they're having, including their own personalised messages. Within 3 – 7 days of your wedding, you will also receive a link to your own online gallery! Here you will be able to share the love with family and friends and also download all the photo booth shenanigans!
Flexible and easy to install
Our booths travel all around Melbourne and beyond, and can easily fit into most homes and venues (for specific requirements, check out our FAQ). Indoors or outdoors, we'll make sure your photo booth experience is set up beautifully. Installation is quick, simple, and striking!
Stressless
Our professional attendants will make sure you don't have to lift a finger. We do all the work for you, including running the booth so you can just book, sit back and relax.
Not only that, if you book one of our photo booths for your engagement or hen's night, we'll discount your wedding photo booth by 10%!
Let us know what you envision for your wedding, whatever your dream, we'll make it a reality with our custom-tailored packages.
Photo Booth Hire Tips
Here are our best photo booth hire tips. All you need to know is right here. No matter the size of your event, a photo booth will make it shine. Also, for sheer enjoyment, they stand above the crowd. As well as being so simple to operate and so much fun- your guests will have an absolute ball. Furthermore, so much is customizable. For example, graphics, logos, effects and props. These can be uniquely tailored to the event. In turn, the memories live on.
Our Suggestions for Hiring a Photo Booth
Is the event themed? If so, let's get some custom props. How about unique artwork for backdrops?
Or custom-designed branding if you're doing a corporate event?
If it's a significant birthday or life-event, showcase key elements through props and backdrops.
Mirror Booth Melbourne
mirrorphotoboothmelbourne.com.au
0411 587 509
MIRROR PHOTO BOOTH HIRE
Make your next event a night to remember and entertain your guests with the unique and fun Mirror Photo Booth Hire! With the latest in digital mirror technology, these mirror photo booths are a must-have at your next event.
To find out more about how they work, simply click here to view our awesome pics and videos.
Create everlasting photo memories with the Mirror Photo Booth!

Fun for guests at your next event!

Weddings

Engagements

Birthdays

Special Occasions

Corporate Events
Exciting Props & Accessories fully included. Different backdrops are available.  Full-on the spot printing available.
PYLON PHOTO BOOTH MELBOURNE
The latest craze in Photo Booth has arrived in Melbourne—the Pylon Photo Booth!
With its amazing animations, touch screen interface, awesome Boomerang/GIF videos and high-quality photo printouts, this fantastic photo booth hire is definitely a crowd favourite!
Available for hire in Melbourne and surrounds, Yarra Valley, Dandenong Ranges and Mornington Peninsula
Take a look at how much excitement this Photo Booth brings at your next event!
One Click Events - Wedding Photo Booth Hire Melbourne
0433 015 890
One Click Events is a multi-award winning entertainment provider in Melbourne.
Our Services
Mirror Me Photobooth
This fun photo booth engages your guests through a touch screen and a cool user-friendly interface.
Open-Air Photobooth
For a more ultra, compact and versatile photo booth option. This a must-try!
Closed Photobooth
This option leads to more personal photos of usually 2-3 people posing on the usual photo booth.
Flipbook Photobooth
Guests capture a short animation and play it back by flicking through the pages of a printed flipbook.
GIF Photobooth
Our newest addition! We capture still images and combine them to create the ultimate groupie that you can instantly share on social.
All-Inclusive Packages
We believe that having a party shouldn't make you spend too many bucks. That's where we come in! We provide some of the best reasonably priced packages for every party planner's price point. Enquire today!
Over The Moon Photo Booth Hire Melbourne
0411 600 461
Our Photo Booth is a family-owned and runs a business that has been running since 2013. We truly understand the importance of good old fashioned service while providing the ultimate experience along with competitive pricing.
Operating in the eastern suburbs and Yarra Valley Areas capturing candid, fun photos! It is the perfect addition to any occasion. Such events as Weddings, Parties, Birthdays, Formals, School Debs, Graduations, Hen's Night, Engagement Parties, Corporate Functions, Product Launches, Expos, Christmas Events and much more! We even liaise with event managers and function coordinators to make sure that your event is truly the best it can be.
Over The Moon Photo Booth Hire Pride ourselves on our personal service to offer the best experience for your event. We have the ability to mix and match packages to suit your needs.
Don't get caught out with a small pokey booth that fits 2 people with a squeeze! Insist on the best quality to ensure your special occasion is captured in true Style. Our Photobooth is a touch screen, and they print 2 photo strips in either Colour or Black & White within seconds of you leaving the booth in the traditional photo-strip style.
Photobooths are great entertainment with memories that last!
Let us help you create instant, effortless memories.
It's as easy as...jump in and let the fun begin!
OZ Photo Booths
+61 468 630 956
MIRROR BOOTH AND PHOTO BOOTH HIRE IN MELBOURNE
Mirror Booth
You deserve something special on your special day, and Mirror Booth will surely bring that unique experience for you and your guests.
The Mirror booth is a full-length mirror with studio-quality camera, lighting and touch screen interface. There are lots of Mirror Booth for hire, but without a doubt, we are specialists in bringing you the whole experience and will surely put your event to the next level.
ABOUT US
AWARD-WINNING
ABIA - 3rd Place Best Photo Booth in Victoria in 2018
Network Member - Photo Booth Finder
Insured by Booth Cover
Genuine Foto Master Product
AUTHENTIC
All images on our website are real people having fun at an event captured by our photo booths—a great way to show you that we produce quality content and photos worth sharing.
RELIABLE
We aim to produce quality photos consistently, and our photo booth performance is beyond compare.
GENUINE QUALITY PRODUCTS
We use genuine products and software to every booth that we offer.
5 STAR SERVICE
We provide 5-star service to all our clients regardless of how big or small an event is.
EXPERIENCED
We are technically skilled. With hundreds of events done yearly for Mirror Booths alone, you rest assured that we are experienced in the things that we do.
VARIETY
We have a wide range of photo booths available with state of the art technology.
VICTORIA WIDE
We are based in Melbourne and servicing all throughout Victoria. Geelong, Bendigo, Ballarat, Mornington Peninsula and Yarra Valley are locations we have serviced.
FULLY INSURED
We have up to $20 million in public liability insurance. All of our equipment is tested and tagged.
WE CARE
We value every event the way the client value their special day. Your memories at the event are part of our good memories too. Something to hold, retold, look back on as part of our experience.
Photo Booth Crew Melbourne
photoboothcrewmelbourne.com.au
0406 095 010
Packages Available
- birthdays - weddings - engagements - corporate - bucks & hens - formals - festivals -  all events -
PACKAGES STARTING FROM ONLY $450.00!
CLASSIC PHOTO BOOTH

OPEN BOOTH & BACKDROPS AVAILABLE

PHOTO STRIPS OR POST CARD PRINTS 

UNLIMITED PRINTS FOR DURATION OF HIRE

LARGE SELECTION OF PROPS

PHOTO BOOTH ATTENDANT

CUSTOMISED LOGOS

PHOTO ALBUMS AVAILABLE

USB COPY OF PHOTOS AVAILABLE

MAGNETS AVAILABLE

ALBUMS UPLOADED TO OUR FACEBOOK SITE
PACKAGES CREATED TO SUIT YOUR EVENT!
Photo Booth Etcetera
1300 426 685
PREMIUM & MOST AFFORDABLE
#1 PHOTO BOOTH HIRE
MELBOURNE | BRISBANE | SYDNEY | ADELAIDE | TASMANIA
You landed at the best photo booth hire service in Melbourne. Our photo booth hire is second to none, and we do have rich experience in providing different kinds of photo booth hire services for many events including wedding, corporate, birthdays, Christmas and so on.
Choose Your Photo Booth Option (classic booth)
Enclosed Style
Be ready to squeeze in and have fun.
Enclosed photo booths hire Melbourne will accommodate your guests to take photos conveniently without being seen by other people. It is a reflection of the popular classic boxed booth except it has an elegant touch to be in your events. You will have the premium style red carpet entrance, bollards, your own choice of a curtain and the green screen technology. This is our most popular option for birthday, wedding and personal events, and can fit up to 15 people. 
SLEEK Open Style
Open photo booths hire in Melbourne has no enclosure involved.  Use your event decoration as a backdrop, or we could even do green screen for you. Create a funnier, crazier, and more memorable experience by bringing a large group of friends, family or colleagues to fit in one shot!
Backdrop Option
curtain backdrop, green screen or BOTH
Classic Booth Curtain 
We have a selection of curtain colours to choose from to suit your preference. Whether it is the closed photo booth or the open booth, you can use the curtain as your photo background that gives a classy, yet timeless photo booths experience
Green Screen Technology
If you like a rather modern and more advanced feature, the green screen technology can make your photo booth hire experience more fun.
Green screen photo booths are a simple way to have a memorable photo booth experience as it can effortlessly transport your guests to anywhere, which means more fun. A green screen photo booth also can match the photo result to your theme since the background image can be made customised.
Take a look at some of our 12 most popular background. FYI, you can use any JPG images to be used as background. Prewedding shoots? Why not!
Photo-Booths.com.au - Wedding Photo Booth Hire Melbourne
0401 853 870
We Specialise In Hiring Photo Booths That Capture Those Awesome Moments
If you wish your wedding to be the talk of the town, you're visiting intend to hire a photo booth for the occasion. Some individuals simply cannot open in front of a digital photographer which lead to some instead presented and abnormal photos. A photo booth is not made to replace an expert photographer, and it's simply there to record various moments that they aren't able to.
Not only will you, as the client appreciate the pictures, but your visitors will certainly additionally cherish the relaxed setting the booths produce with the capacity to re-take photos and their exclusive nature.
Folks like to make their own memories, and the pictures captured by photo booths are very personal. At some point in the evening, also your toughest guest will have at least one image taken. This is the appeal of having a booth at your wedding event or event, and they catch photos and real sensation with a loosened upsetting which is extremely hard for a professional photographer to take.
Lots of photo booths have the potential to fire HD video too, which is something your visitor will adore. They can be shared on social network websites and also watched in your home completely display on your HD TELEVISION.
They can't accept developments which photo booth software program can. Several booths now provide instantaneous Facebook uploads, integration with iPad apps and eco-friendly screen technology.
A frequently forgotten function of a photo booth hire is the number of photos that can be taken and the truth they can be made into presents for the guests as well as people not able to go to the night. Some firms provide keyrings, fridge magnetics, coffee cups and canvas prints. A lot of will provide you with the pictures from the evening on DVD for you to create your very own re-prints and present things should you desire.
The expense to re-print a 6 Ã? 4 may be really reduced, but the worth of the present is valuable. Quite often, the photos end up as profile images as this is just one of the only chances for individuals to catch pictures of themselves spruced up and hanging out with friends and family.
Ideally, attempt to visit your supplier or go to one of their public events where you could utilise their booth. You'll be amazed at just how much fun they are too utilized, and you'll promptly appreciate exactly what a photo booth hire could supply to your guests and your evening.
If you wish your wedding to be the talk of the town, you're going to desire to hire a photo booth for the activity. A photo booth is not created to replace a professional digital photographer, and it's simply there to catch different minutes that they aren't able to.
Folks like to make their very own memories, and the photos captured by image booths are very individual. A usually ignored feature of a photo booth hire is the volume of photos that can be taken and the reality they can be made into presents for the visitors as well as folks not able to go to the evening.
About Us
Photo-Booths.com.au, is a subsidiary of MelbourneCastleHire, a Melbourne-based business that was co-founded and is managed by Warwick & Cindy, who both share a unique passion for Photobooths.
Warwick & Cindy mainly run the Hire side of the business. As they have experience in the hire side, they understand not only the needs and requirements of the Photobooth industry but also the functionality requirements for operators.
Warwick & Cindy are passionate about business and believe that their business is only as good as the product and service that is offered, for which he strives to be the best.
Pink Zebra Photobooths
0432 422 729
Give your guests something to remember your event with their own photo strip from a Pink Zebra photobooth!
Our photo booth hire service can provide hours of laughter and memorable entertainment at your next event. Even those that aren't partial to a camera will have a ball when they grab a prop and draw that curtain closed! There is nothing better than having photos of all of your guests to keep and cherish as a reminder of a wonderful event – you won't hear the end of it from friends and family as they rave about the wonderful experience.
Hiring an event photo booth is the perfect entertainment as well as a keepsake for you and your guests. We cater for any function or party, including the following:
Wedding Photo Booths

Engagement Parties

Product launches

Birthdays (all ages!)

Christmas parties

Grand openings

School formals

Corporate events

Fundraisers
Melbourne's Best Photo Booths
With Pink Zebra, guests can all have their own personal photo strips to take home with them that we can personalise to your event or brand. Our staff are here to assist you in getting the best out of your photo booth experience. No matter what event, we will be able to adapt to your needs for a truly memorable experience. So contact us for the best photo booth hire Melbourne has to offer today.
OUR BOOTHS
Enclosed booth
Add a touch of glamour and elegance to our most popular booth set up that can fit up to 15 people. Complete with a red carpet, full-length curtain (colours can be altered on request) and bollards, you'll see why this is our most popular booth!
Open Photo Booths
Perfect for any function, corporate event or anything that has a custom backdrop. This is our most versatile booth as it is perfect for large groups to capture everyone in the one snap! Read more about our open photo booth hire here.
Kids Booth Hire
Our booths can also cater the young for a perfect birthday memory. With the option of an enclosed or open booth, your kids will be provided with endless entertainment for their next party!
Please contact us for our special birthday packages or click here for more info on photo booths for kids parties.
Snap Time Photobooths
0449154095
Snap Time Photobooths is a professional and local photo booth hire business committed to providing high-quality photos, user-friendly photobooths and outstanding customer experience. We specialise in photo booth hire for all occasions such as Weddings, Birthday Parties, Engagement Parties, School Events and Corporate Events. Our photo booth rental providing an added experience and level of entertainment to any event across Melbourne. We offer a variety of affordable hire packages to suit your style and budget and guarantee to capture those special moments with beautiful photos printed seconds later.
SERVICES
Servicing Melbourne and surrounding suburbs along with Geelong, Mornington and Yarra Valley.
Wedding Photo Booth Hire
SPECIAL OFFER $350 2 HOUR PACKAGE
Wedding Photo Booth Hire is very common, and you are most likely to see a photo booth at any wedding you go to these days. Photo Booth hire a really great way to enhance your wedding. Our booth will literally create fun, joy, tears of laughter and then record them all as precious memories from your wedding reception.
Many different types of the photo booth are in trend and not only adults, but even kids also love having a photo booth, and it's a great way to send them home with a memento of your special day. Did you know Kim and Kanye West hired a photo booth for their wedding?
Photo booths are always fun, and we provide props and social media sharing (please check your package) along with instant prints.
All our booths are fitted with DSLR cameras.

Open booths and great for group photos.

User friendly.

Photo booth attendant with WWC checks.
We will ensure the photo booth is set up before your guest's arrival.
We are dedicated to capturing the beauty of your love on your wedding day, and we could make your event a huge success.
Give your guests the gift of happy memories and fun times with our photo booth hire Melbourne.
Our team of Professionals catch the spirit of the day and provide Services with the best quality for your Dream Wedding.
Take advantage of our special packages or build your own package to suit your needs and budget.
Wedding Photo Booth Hire

Unlimited Photos

Name or Logo on the photo strips

Friendly Photo Booth Attendant

Premium Props

USB with all the photos

Free Guest Book

Free Delivery & Pick-Up (40km around Melbourne
We also specialise in photo booth hire for engagement parties, anniversaries and hens parties.
The Photo Booth Guys - Melbourne Wedding Photo Booth Hire
(03) 8370 5311
Photo Booth Hire in Melbourne for weddings and parties. Creative experiences for brands, planners and agencies.
Dear Melbourne,
We do kick-ass photo booth hire for weddings, parties and corporate events in and around Melbourne. Check out all the photo booth products we hire (Boutique, Selfmatic and Corporate) and the areas around Melbourne where we hire them...
Photo Booth Experiences
We've designed a set of custom photo booth experiences for corporate events, weddings and parties in Melbourne. If you need something that guests are impressed by, something that is easy to share and fun to make.. we have what you need.
SLOW MOTION BOOTH

SOCIAL MOSAIC WALL

THE GIF BOOTH

FACE MORPH BOOTH

INSTAGRAM BOOTH

BULLET TIME PHOTO BOOTH

GREEN SCREEN PHOTO BOOTH

PROJECTION PHOTO BOOTH

REVERSE GREEN SCREEN
We cover all of the greater Melbourne area for events. If you have something out of Melbourne, let us know, and we'll do our best to get there.
The Photobooth Girl
0433 345 548
YOUR PERFECT BOOTH AWAITS
At The Photobooth Girl, we provide a unique range of both indoor and outdoor photo booths. 
We pride ourselves on offering premium quality and full service to ensure that your event is amazing and unforgettable.
We truly believe your event deserves all that The Photobooth Girl offers as we go above and beyond to exceed all of your expectations.  
Our high-quality photo strips will adorn your guest's fridges and homes for years to come making the memories last forever. 
The Photobooth Girl although based within the Yarra Valley services Victoria wide! 
OUR BOOTHS
OPEN AIR PHOTOBOOTH
If you are searching for an indoor photo booth option for your upcoming event, we would highly recommend our open-air photobooths. 
We carefully designed the open-air photobooths to accommodate any type of venue and colour scheme allowing us to fit in perfectly. 
VW KOMBI PHOTOBOOTHS
If you are searching for a statement piece for your next event, then our VW Kombi photo booths are a must-have! 
The perfect thing about the VW Kombi photo booth is that not only is it unique and provides an epic photo booth experience to all of your guests but is also a memorable statement piece for your event. 
As shown in our gallery below the VW Kombi photo booth provides an eye-catching backdrop for any of your event photos. 
Operating the same way as our open indoor photobooths with the same amazing experience all inside our VW Kombi!
VINTAGE CARAVAN PHOTOBOOTH
Are you searching for an outdoor photo booth that offers adorable style to your next event? Then our cute vintage caravan photo booth is the booth that you cannot look past. 
The vintage caravan photo booth looks perfect amongst any setting and is the perfect inclusion for your event. 
The vintage caravan photo booth is fitted with the same high-quality photo booth experience as our indoor photobooths all inside an adorable vintage caravan. 
The popularity of our outdoor photobooths means that we have had the pleasure of visiting multiple venues, so we experts in the best set up locations. 
OUR STORY
Natalie founded the Photobooth Girl after years of wedding and event experience. Natalie has always had a keen interest in photography services and creating tangible memories and keepsakes for people to enjoy and look back on for years to come. 
The Photobooth Girl was designed to create a memorable, quality, reliable and premium photo booth service. We believe photobooths should be welcoming and entertaining for all your guests!
Words cannot express the joy we get by watching your guests laugh and create beautiful memories in our booths. Taking home treasured keepsakes from your event something tangible that in today's world is so rare. 
Nothing makes us happier than seeing a range of people from your Nan, Dad or friend's new baby being featured in your photo booth pics. Our photo booths will be the happy hub of your wedding or event constantly filled with love and laughter. 
 We are passionate about our clients having a wonderful experience on their day and believe that your event is worth the very best. 
OUR DIFFERENCE
We believe your event deserves The Photobooth Girl difference, and below is why we provide a service unlike no other!
We are full-time photo booth and event hire suppliers run by a husband and wife team with an amazing team of staff! We run this business full time and have years of experience together with thousands of events under our belt. Thousands of clients trust us before you ranging from huge corporate brands to loved up couples all over Victoria.

Unlimited use of the photo booth for the duration of your hire.

Photography trained friendly photo booth attendant for the duration of your hire, ensuring the camera and lighting is perfect, allowing for great photos every time.

High-resolution large touch screen with a live feed so you can find yourself when the photo is being taken.

Large range of premium props. 

Delivery, setup, and pack down is all-inclusive. There is no additional costing involved, and this is not included within the duration of your hire.

Photos from your event are promptly uploaded to Facebook for all of your guests to access and enjoy.

Digital high resolution of all the photos taken from the event provided to you via digital transfer upon request.

Unlimited prints per session - this means that everyone gets a copy of the photo strip each time the booth is used plus another photo strip is put aside for your guest book. It's not fair to make people miss out, and everyone deserves to keep a copy of this cherished moment from your event.

Fridge magnets - each photo strip has a fridge magnet on the back so your guests can proudly display their photo strip on the fridge for years to come.

Studio quality camera - Canon DSLR camera with an adjustable zoom lens to accommodate various group sizes.

Studio-grade ambient lighting to provide you with bright and clear photos every time.

Top of the line instant printers - high resolution instantly dry prints are completed within 12 seconds.

Premium custom software with live view - our touch screen and software has been custom built to include live view (like looking in a mirror) this makes it fun as let's face it everyone loves to dress up in props and see themselves! Live view also allows us to be able to ensure that guests are positioned centre of the frame. Our photo booth takes 3 x photos, each of which is 10 secs apart. This allows guests to change props in between each photo (most other companies are only 3 secs apart not leaving enough time to change props) 

Dozens of venues and suppliers highly recommend us not only due to our great reputation and product but for all the behind the scenes practices. We arrive early for set up, ensure a setup and workspace and bring everything will us that we need. You can rest assured knowing your event is in great hands. 

Premium quality and premium service - we also get used by major fashion brands and major sporting / corporate events where the quality must be the same high quality of the brand/event as it's a direct reflection of the brand. Your event is no different, and your photos should be a reflection of your special event.

We strive for the very best and among other things, we ensure the following at every event:

Ensure guests are positioned centre of the frame and not off to the side slightly (this is easy for us as we have a live view so can see each photo before its taken)

Explain to all guests how the photo booth works, allowing them to get the very best experience and photos possible.

Ensure that guests are sitting still and looking at the camera to ensure perfect photos (again no blurry or grainy photos with us)

Ensure that every guest in the booth gets a copy of the photo strip and then 1 x photo strip goes in the guest book and your guests then write a message.

We have proof of how popular and trusted we are as you can see on our social media by the large number of events we do per week.

Over 300 reviews on our Facebook page, all of which are 5-star! Social media reviews are so important as you can genuine feedback with previous clients.

We upload every album from each wedding and do so very proudly! You will notice that we are one of the only photo booth companies to showcase an online gallery from each wedding we do, as we are so confident and happy in what we do at every event. We always encourage anyone interested to have a look through one of our online albums to get an understanding of the quality and experience we aim to capture in every photo.

We always make time to get some bride and groom photos. You'll find that your wedding day is busy and you'll struggle to find a moment to get some photos in the booth together, and we have our secret tricks to ensure that you will get a chance to get in the booth and get some cute/silly photos.

We are professional guest managers and have seen it all! And despite those rowdy few guests (you already know in your head who that's gonna be right?), we aim to nail every photo session every time. 
The Photoboothers Melbourne
0468 414 603
WELCOME TO THE PHOTO BOOTHERS MELBOURNE THE BEST MOMENTS
We specialise in Open Air Photo Booth & Enclosed Photo Booth Hire in Melbourne
We would love to work with you on your party needs!
MELBOURNE'S AFFORDABLE & PREMIUM PHOTO BOOTH COMPANY
WE PROVIDE ENJOYABLE PHOTO BOOTH HIRE MELBOURNE FOR PARTIES OF EVERY KIND. WE'D LOVE TO WORK WITH YOU ON YOUR NEXT EVENT!
INCLUSIONS FOR EVERY PACKAGE
BOX FULL OF FUNKY PROPS
What's the only thing more fun than posing in front of the camera? Posing with funky props that'll get everyone laughing until their stomach hurts! We have a crazy huge selection of accessories, wigs, signs, and other cool stuff you can use in your photos.  Our props are sure to bring out the wild side of even the most reserved of your party guests! See our Melbourne pricing for your next photo booth hire!
CUSTOMISED PHOTO STRIP
Memories can fade, but fortunately, photo strips can last a very, very long time, which is why your photo strip should be nothing short from perfect. We offer a variety of different photo strip designs that you can choose from—from muted, elegant styles perfect for weddings to brighter and more festive patterns that work great for birthdays and other parties. If you can't find one that tickles your taste buds, we can create one from scratch with our optional extras.  
DSLR CAMERA'S
We strive to give you only the best high-quality images and print- outs to make your special day a memorable one. Which is why we use professional, studio-grade DSLR cameras and lighting that will give you sharp focused, clear and beautiful HD images every time, that will last you a lifetime. Regardless if you're having a wedding in the Yarra Valley, or a birthday bash in Geelong, we have you covered for your next photo booth hire. 
GROOVY BACKDROPS
Our super awesome selection of backdrops will get your party going in no time- after all who can resist a pic with a funky backdrop. Our team of experts will choose the perfect backdrop to compliment your photo strip- we know that you and your guests will love every second of it.  If you're looking for some privacy with your photos, we also offer enclosed photo booth hire options that are perfect for those sneaky moments. 
UNLIMITED PRINTS
There's no limit to the crazy fun you and your friends can get up to! Our packages are all by the hour, so you don't have to worry about running out of prints. This means you and your guests can go for round 2 or 3 or even … 10! An unlimited number of photos equals an unlimited amount of fun. Take your function to the next level and view our Werribee pricing for your upcoming, talk of the town function!
FRIENDLY ATTENDANT
Your friendly photo booth attend will ensure that the photo booth is running smoothly and that guests are aware of its operation. They will also ensure that the photo book is being utilised to its capacity by sticking in guests duplicate photo strips and encouraging them to write a personalised message for you. If you have any questions on the night, your attendant can assist you with their extensive knowledge. Contact us today to get the photo booth you've been dreaming of for months!
CONFIRM YOUR EVENT DETAILS
Booking has never been so simple with our fuss-free booking process. Simply confirm all your event details via email and leave the rest to us. Whether you're planning a wedding in Geelong, a small gathering in Melbourne, or a corporate function in Yarra Valley, we have options to suit every budget and occasion.
ENJOY YOUR PHOTO BOOTH SERVICE ON THE DAY!
Our photo booth hire Melbourne provides fuss-free photo booth services all the way through. From the moment you book until the last photo comes out, we take care of all of your photo booth needs. See our Yarra Valley pricing or our list of locations for your perfect photo booth hire. 
RECEIVE YOUR PHOTOS AFTER THE EVENT!
Get your full edited digital copies of all of the photos from your event via an online USB. Share them online, print them out again, or just keep them as a souvenir—it's totally up to you. It doesn't stop there! If you do happen to lose your initial copy- we keep a copy saved on our servers for 3 months. Get in touch for your next open photo booth hire. 
A proud Melbourne-based photo booth hire company, The Photo Boothers Melbourne has been providing exceptional party entertainment services all around Melbourne and surrounding suburbs for the last five years.  Whether you're hosting a function in Melbourne, Geelong, Yarra Valley or Werribee– we have you covered with only the best and most affordable photo booth hire. Our team is full of passionate and dedicated members who love photo booths almost as much as we do! Although our photo booths are affordable, we do not compromise on quality. All of our photo booths are equipped with the highest of quality DSLR cameras so that you get HD photos to look back on. Our affordable photo booths make a great addition to hundreds of parties, events, and functions…yours could be one of them! We now that our photo booth will be a hit with guests.. even the quietest of the bunch. After all, who can resist silly photos, funky props and a bit of fun? Got on, hit that enquire button to secure your affordable Melbourne photo booth hire! We know you want to.
HERE'S WHAT MAKES US MELBOURNE MOST TRUSTED PHOTO BOOTH HIRE COMPANY
What makes The Photo Boothers any different form the next photo booth company in Melbourne? Well, we treat every event as if it were our own, so you know your experience before, during and after the event will be as smooth as a babies bottom. Our professionalism and commitment really help us stand out from the rest. From the moment you contact us, you know you will be in good hands with our exceptional communication. We're big on gathering your exact expectations and exceeding these on the night to leave you and your guests in amazement. Find out the top reasons our clients love The Photo Boothers Melbourne- the coolest and most affordable photo booth hire company in Melbourne.
Think Photo Booths Hire Melbourne
0457718081
WELCOME TO THINK PHOTO BOOTHS
CHEAP PHOTO BOOTH HIRE IN ENTIRE MELBOURNE, FRANKSTON, WERRIBEE, POINT COOK, GEELONG
Are you organising a party and don't want to be known as a 'boring' host? Still, confused about what to include in your party arrangements to take the event to the next level?
You have landed in the right place as the packages Think Photo Booths offers for cheap photo booth hire in Melbourne will let you stay in budget and at the same time keep your guests entertained throughout the event while allowing them to keep on clicking the pictures and make lasting memories.
Our photo booth can really help you to achieve the party perfection!
CHECK OUT OUR BOOTH IN ACTION
With both enclosed and open-air photo booths supplied for different occasions like wedding, birthday, corporate events and party, we take pride in being the most reliable and cheap service provider in Melbourne.
Our range of props, print strip, guestbook, USB transfer facilities for going social instantly is something that makes us stand out. Along with that, with our unlimited instant photo prints, your guests will be able to take back the memory home.
Our cheap photo booth rental service is all around Melbourne covering its suburb areas Frankston, Geelong, Werribee and Point Cook as well.
Take a look at our photo booth setups by yourself before choosing us.
OUR SET UP
Open Style Photo Booth
Modern Enclosed or Open Style Photo Booth
Engross yourself in the traditional open-air photo booth.
We make these booths available to you at the same price.
Unsure about the style of the booth that is going to fit your venue or event? Get in touch with us. Our professionals are always there to guide you in making the right selection.
DSLR Camera-Equipped Booths
Quality snaps are what everyone wants at the end of the day.
Pose in front of the DSLRs with high-resolution and flash and get a flawless picture (solo or in the group).
Ensure vibrancy in any background with crystal clear snaps.
Our photo booths have powerful features that help in customising your experience.
DSLR Camera-Equipped BoothsChosen Backdrop, Red Carpet and Gold Bollards
Chosen Backdrop, Red Carpet and Gold Bollards
Worrying about the backdrops?
Fret not!
We provide you with different types of backdrops that are going to mesmerise the guests at your events. We keep in mind the type of event and ask you about your special requirements.
At Think Photo Booths, we assure you of experiencing new, eye-popping and beautiful backgrounds, stunning red carpet and gold bollards.
GIF Animations
Fond of BOOMERANG?
Capture a snap of yourself that is really, really quick and mash them together with our GIF animation enabled photo booths.
We assure you that the quick burst of the snaps is surely going to be funny and memorable. Share them with your near ones and make them laugh as well.
Embellish your snaps with fancy filters.
Contact us for high-quality stop motion animated snaps for a memorable photo experience!
GIF AnimationsGreen Screen Capabilities
Green Screen Capabilities
Add a background of your choice post photoshoot.
We have photo booths with green screen capabilities to customise your background. Add the backdrop of your choice to give a special effect starting from fireworks to monuments or other images of your choice.
We ascertain that this feature is going to provide you with amazing effects.
Social Media Integration
Sharing adds happiness! It is what we believe.
Upload your amazing snap on your FACEBOOK or INSTAGRAM instantly and get likes from your friends.
Our photo booths are there to provide you with UNLIMITED SNAPS! Go crazy the entire party night and capture your every mood.
We ensure plenty of laugh and fun the next day whosoever looks into your snaps the next day.
Social Media IntegrationProfessional Photo Booth Attendants
Friendly and Professional Photo Booth Attendants
Worried about the booth arrangement on the D-day?
Worry not!
Each of our booths is accompanied by friendly booth attendants who are going to set the booth just at the right time.
They also provide assistance to your guests during the entire hire period. They also ensure the place remains apt for the next use.
Request print of extra copies of your snaps. They are also going to guide you with the backdrops and the shots to make them more engaging.
Premium Props And Guest Books
From double-sided hand-held signs to mask and hats to glasses, we bring the best and the most uncommon props for you.
We ensure your event goes spectacular.
We ascertain to give a WOW effect to your snaps.
WELCOME TO THINK PHOTO BOOTHS
Organizing an event in Melbourne? Looking for something that will take your event to the next level and create lasting memories?
A photo booth can help you achieve party perfection!
At Think Photo Booths, we pride ourselves on having the latest technology, the best customer service and the ultimate photo booth experience for you and your guests.
Check out our Packages now to see how our photo booths can complement your next event.
With over 20 years of combined experience in the Hospitality Industry, Think Photo Booths knows events!
Our experience, combined with the latest in photo booth technology gives us the edge when it comes to providing our customers with a premium photo booth experience.
VIP Photo Booth - Wedding Photo Booth Hire Melbourne
0433 253 880
For once in a lifetime events!
Servicing Melbourne for over 6 years trust us for your important occasion. Life is short, smile while you still have teeth! I hope that broke the ice.
Hi, we're VIP photo booth. Sometimes we wish our perfect days, our crazy nights, good old times could last forever. The party might end, but your photo memories don't! Our services are suited perfectly for weddings, birthdays, private parties, work functions, corporate events and activations in and around Melbourne. Friendly, professional and fun ensuring your photos look amazing with high-quality prints and lighting with a VIP photo booth or fun boomerang times with the GIF booth. So, friends, shall we get this party started!
Photo entertainment services that are memorable, exciting and highly engaging!
So you want to throw that party everyone wants to talk about in Melbourne. Our photo services will ensure your guests have a FABULOUS time while they look GORGEOUS in their photo memories. Sparkle and shine with VIP Photo Booth.
VIP PHOTO BOOTH 
Calling all Melbourne weddings, birthdays, private parties, work functions, promos and corporate events don't say ``Thank You Next". Hire us, and we'll ensure you and your guests celebrate and capture those perfect picture moments with your special people.
QUALITY PHOTO PRINTS - FASHION LIGHTS - CAPTURING MOMENTS
Create the studio-quality photos for your function with our open-air VIP photo booth. Capturing more than just headshots, fitting more people and smiles and creativity. It's all about the quality of your images, giving you that beautiful look and seeing your loved ones smile and laugh in your photos.
VIP Photo Booth was founded by a professional photographer and graphic designer with backgrounds of the multimedia and the arts.
We aim to provide beautiful creative photos, a fun experience and a kind service.
Everyone needs a little love!
WE ARE A FAMILY OWNED BUSINESS
By supporting our family-owned and operated business, you are helping our family and children's dreams come true. We have a heart in what we do.
Wooshka Photobooths
0425 818 960
Ok, so you're organising a party & want to avoid boring party embarrassment, right?
Well you've come to the right place because our enclosed & open-air photo booth hire packages are the best way to keep you and your guests entertained all night long, whilst capturing memories that will last forever.
Photo booths have fast become a must-have item at any wedding, birthday, engagement or corporate party, and it is easy to see why.
We pride ourselves on offering what we truly believe in Melbourne, Geelong, Werribee & Country Victoria's very best quality all-inclusive photo booth hire packages with a fantastic range of props, beautiful print strip options, free guestbook & USB of all images. 
All of our 1000+ clients and their guests simply love our photobooths, and so will yours.  
Sound too good to be true? Well have a scroll down the page and find out for yourself.
We think you'll be pleasantly surprised 🙂
INCLUSIONS
UNLIMITED INSTANT DOUBLE PRINTS
Our photo booth is always the life of every party and is regularly used non stop throughout most events. That's why we offer people unlimited trips to the photo booth.
And yes, unlimited means completely UNLIMITED!  You and your guests can go as crazy as you want all night & our printers will instantly deliver two freshly cut prints without fear of reaching a limit or running out of ink. 
Pro Tip - Be nice to your photo booth attendant, because with the touch of a button they can print out extras at no charge. 
"We just want you and your guests to be happy."
BEAUTIFUL PRINTSTRIP OPTIONS
Great news! We have just updated our client print strip design options and now offer over 80 great pro designs to choose from. 
Scroll through to see your options & find out which one is the best fit for your theme/event
Simply pick your fave that & let us know what you would like written on it - easy!
DELUXE PROPS CASE
We bring a vintage suitcase chock full of entertaining props to each and every event.
​Our range includes double-sided handheld signs, hats, masks, glasses and the like. 
​One of the most common things we hear at most events is
"Wow you guys have the best props!"
Friendly Attendant 
Every booth hire package comes with one of our friendly attendants. 
​They deliver and set up the booth approximately 1 hour before your hire period begins. They stay in close proximity to the booth for the duration of the hire period, assisting your guests with using the booth, whilst keeping the area neat & tidy. 
​They can also print off extra photos, and encourage your guests to place a copy of their photos in your complimentary leather guest book.
Free Guestbook 
A free guestbook & hard case comes with each photo booth hire. 
It makes for a great keepsake for you to look back on. 
Your attendant will encourage guests to pop a copy of their prints in the book alongside a personal message. 
​We bring the glue and cool metallic textas for the book, meaning you don't need to organise anything at all.
USB OF ALL IMAGES
At the end of your hire period, your attendant will pack down the photo booth and hand you a USB with images taken on the night. 
These include the print strip version & a high-resolution copy of all the single images taken throughout the night. 
​You can guarantee there'll be plenty of laughs when you look over the images the next day, week or even years down the track! 
ENCLOSED OR OPEN BOOTH
Choose from a traditional enclosed booth or an open-air booth.
Both options are equally great and are the same prices.
If you are unsure about which style will best fit in with your event and venue spacing, feel free to get in touch so we can assist.
SHOULD YOU HAVE A PHOTOBOOTH AT YOUR WEDDING?
In today's world, the options are endless when you're planning a wedding. From food trucks and interactive entertainment to doughnut walls and floral chandeliers, deciding on what you want at your wedding—and, more importantly, what your budget can support—can be difficult, to say the least. One more question to add to that never-ending list (sorry!): Should you have a photo booth at your wedding? While there are plenty of reasons to add a photo booth to your reception design—there are also some reasons a photo booth might not be the best fit for you, your event vision, and your budget.
Fun Entertainment For Your Guests
Worried about your guests feeling awkward about mingling with one another after dinner, or worse, never leaving their table at all? Or, are your wedding guests a mix of ages from young to young at heart? Having a photo booth at your wedding reception is an awesome way to get everyone up from their assigned table to chat and mingle with one another! Your guests will find themselves at the photo booth station together as they pick out silly props, and share a laugh! If you are slightly unfamiliar with open concept photo booths; they are small-sized units that are set up discreetly in an open space in the corner or back of your event. The unit is set up in front of your selected backdrop to make your guests photo booth pictures perfection! There is typically a table full of props set up alongside the booth that guests can pick from to take with them into the photo booth as well.
Easy and Cost-Effective Favors
Every guest that enters your photo booth will leave with a fun favour, and you absolutely will not be stuck tying bows out of ribbon around small circles of tulle! Each guest at your wedding reception that braves the backdrop and silly props to show off their amazing moves for a boomerang shot will leave with a photo strip to commemorate the night! There is typically no limit on the number of times that a guest can enter the photo booth so family and friends can keep returning to the photo booth any number of times that they wish, with as many friends or family as they can fit in front of the backdrop! The templates for the print of your photo booth photos can even be customised with your wedding date or custom hashtag to commemorate your wedding day celebration.
Memories for Years to Come
The memory of your wedding day will be with you for years and years to come, and there is no doubt about that! But what about a memory of you and Grandma in a photo booth with a giant blow-up shark? Or that time it was just you and your flower girl doing your best boomerang style 'dab' in the photo booth together? Your cheeks will hurt from laughing, but recalling those hysterical moments will make you smile forever! Another bonus 'memory maker' of having a photo booth at your wedding reception is a custom scrapbook option that can be provided by your photo booth company. 
Additional Wedding Photos of Your Guests
Depending on the type of wedding photography coverage that you chose for your big day, there's a chance that you might not end up with any photos of your wedding guests from during your reception. Having your wedding photographer grab photos of your guests (non-bridal party members) at your wedding reception is not something typically included in most wedding day photography coverage. But not to worry! If you find yourself wanting a little bit more, but not exactly looking for full formal photos done by your wedding photographer, you can get all of those candid moments with your life long friends & family right at your photo booth! It will also give you a chance to mingle with your guests without feeling like you have to go from 'table to table'!
Alternative Entertainment for Guests Who Don't Dance
Let's face it, not all of us attend weddings ready to cut a rug on the dance floor. And then there are guests who only brave the dance floor under the guise of 'liquid courage', and we all know how that ends! Providing a photo booth for your non-dancing wedding guests is an amazing way for them to break the ice with other guests, and have fun at your wedding without feeling left out. It's also a great form of entertainment! Stepping inside a photo booth is a surefire way to have your cheeks hurt from smiling so hard, or to be doubled over in deep belly laughs!
Want to really rev up the action? Options like a GIF photo booth, a Boomerang photo booth, or slow-motion photo booth all make for a major draw that will keep your guests coming back for their close-up time and time again. Check out the best photo booth ideas if you're seeking a booth that provides endless entertainment for your wedding.  
So once you have found a wedding photo booth, why not consider Brighton Savoy as the venue to host your Wedding Reception & Ceremony.
We offer competitive wedding reception & ceremony packages. Our events team are on hand to assist and please give them a call on (03) 9592 8233 to find out how Brighton Savoy can share in your special day.