Today at the Brighton Savoy, we're exploring the question: What makes live wedding musicians stand out from the crowd in the wedding scene? Is it years of experience? Is it industry awards? Is it diversity? Talent?
We put together a list of the top and leading wedding bands and entertainnment in Melbourne. To help you find the best Musicians and Bands located near you in Melbourne, we put together our own list based on this rating points list.
Expert recommended Top wedding Bands and Entertainment Melbourne, VIC. All of them face a rigorous 50-Point Inspection, which includes everything from checking reviews, ratings, reputation, history, complaints, satisfaction, trust and cost to the general excellence. Deadset the best!
One thing we hear quite a bit here, from our real brides and grooms, is that wedding entertainment can make or break a night. The ceremony is sweet and all but the d-floor is where the real magic happens.
Located in Melbourne, Victoria and looking for the best wedding musicians or band?
To help you along with this crucial part of wedding planning, we have rounded up 20 of our favourite entertainers in the biz. Whatever you are after, someone in this lush list is bound to have it. We have acoustic duo's f, an epic 14-piece ensemble and one heck of a cruisey.
As for locations, well, most of these guys are keen to hit the road! Still, we have included bands based all over Australia and musicians scattered all over Melbourne, Victoria.
Ultimate List of Best Wedding Band, Music and Entertainment Melbourne
MELBOURNE ENTERTAINMENT COMPANY -
WEDDING BAND

melbourneentertainmentco.com.au
1300 858 981
The Melbourne Entertainment Company is a comprehensive wedding & events entertainment supplier. We deliver a refreshing, personalised service to each client for every event. We are highly active in the Melbourne wedding/event market delivering over 700 events last year. With a more than a decade of experience, we understand the need for a bespoke, memorable and premium service.
Offering elite DJs, DJ-Sax, Acoustic Solos, Duos, Trios, Bands, Singers, Guitarists, Saxophonists, Percussionists, Photographers and Roving Performers. MEC is your friendly, reliable and knowledgeable go-to provider for seamless corporate, wedding and function entertainment.
TO BE MELBOURNE'S BEST AND MOST RESPECTED WEDDING & EVENTS ENTERTAINMENT PROVIDER BY 2023.
This will be achieved by providing a consistent and reliable service to our customers time and time again, and fostering our strategic relationships with various venues and partners. Our youthful and professional staff are committed to ensuring each event is entertaining and enjoyable for all guests through every performance.
We will continue to use only the highest quality entertainers, musicians, performers and staff. It is our benchmark that 100% of our clients will receive an outstanding and energetic performance which everyone will remember and talk about for years to come.
YOUNG, FRESH, FLEXIBLE, RELIABLE
Our core values are to be young & fresh, flexible and reliable. Our business was formed over a decade ago on the premise that nobody should have to put up with a daggy, out-of-touch has been DJ who's playing the chicken dance to a dead dance-floor. Nothing made us cringe more than seeing some of the poorest, unprofessional budget entertainers that ruined the evening.
Entertainment unfortunately doesn't have the luxury of being unprofessional and has the potential to ruin up 60-70% of your wedding if done poorly. Many couples will try to save on entertainment, willing to risk their $30-$40,000 wedding on a cheap DJ. If you're wanting to create memories that last and have your guests raving about the best wedding of the year, then you need to invest in high quality entertainment.
YOUNG, FRESH, FLEXIBLE, RELIABLE
100% satisfaction is the benchmark that we hold ourselves accountable to. Our standard can be viewed across the more than 800 5-star reviews we hold across Google, Facebook and Easy Weddings. Our vision is to have our talent going above and beyond for every single client, ensuring that we're doing everything within our power to keep them ecstatic about the level of service they're receiving.
EVENT & LIVE WEDDING BANDS
Nothing beats the performance and the crowd interaction that an incredible live band can provide. The experience that the music is actually being made, produced & delivered live right before your very eyes! It's encapsulating, invigorating & all encompassing.
The most talented professional event and wedding bands Melbourne has to offer will create a vibe that your guests will not shut up about at your hangover brunch the next day. "How incredible was that Cover Band Singer!?" "The drummer was so hot!" "What about that Sax solo in the Jazz Band?!"
It's our job to create the memories that last a lifetime. It's our job to guarantee when you hire a band Melbourne Entertainment Co ensures that everyone from your grandma, to bridal party, to your niece/nephew is dancing around to your favourite requests and d-floor hits.
When it comes to looking for an Acoustic Duo or the best wedding singer Melbourne Entertainment Company has the most talented artists and greatest diversity of choice. Hire an incredibly talented Event / Wedding Acoustic Duo or guitarist who will knock your socks off. These Acoustic soloists and duos will serenade you down the isle, or provide the perfect chill background vibes at your cocktail event. There are vocal virtuoso's who can play guitar, piano or use loop pedals to create a multi-instrumental soundtrack live before your very eyes. With so much acoustic talent on offer, you'll have trouble narrowing it down to your favourite soloist. If you're not sure sure about whether or not to book a DJ or an acoustic musician, and don't have the budget or both: check out our amazing complete soloists who can tick both boxes for you.
Explore some of Melbourne's most incredibly talent performers available for hire. Our artists are committed to creating the most memorable and magical of experiences whenever they perform.
NightShift Band - Wedding Band Melbourne
nightshiftband.com.au
0418 594 524
Who are Nightshift Band?
If you're looking for laid-back, go-with-the-flow entertainers, you've found them. We're all about people enjoying themselves in whatever way suits them – a shiny, candlelit formal dinner or a casual backyard BBQ. You supply the venue, we'll provide the entertainment.
On a more formal note, over the last 18 years, we've won 12 industry awards. So we must be a bit of alright. Right?
But apart from having fun, our success is built on the fact that we don't compromise on quality and we don't try to be everything to everyone. Our focus is on exclusive private events of 30 to 150 guests maximum – perfect for people who feel it's more meaningful to create an intimate and memorable event than a big bash.
If you're into the smoothest grooves and the funkiest beats, Nightshift is the right band for you.
Nightshift is Stevie Wonder, Bruno Mars, Lauren Wood, Marvin Gaye, Aretha Franklin, Jamiroquai, Michael Jackson, Etta James, James Brown, Eva Cassidy, Sam and Dave.
One Melbourne's most popular Wedding and Corporate Events Bands, Nightshift have won 12 industry awards for their service to clients. We specialise in intimate events up to 150 guests for clients who have cool taste in music, with an appreciation of great tunes and beats, rather than the standard function band repertoire.
Sensation Entertainment Wedding Melbourne
0418 565 146
The birth of Sensation Entertainment.
It was in 2007 that Rosie  finally decided to take her passion for singing, performing and vocal coaching to a new level, and she started Sensation Entertainment as a full time business.  Sensation Entertainment initially provided live music, MC and dance entertainment for clients, however in 2011 she  took the opportunity to train as a professional DJ, so she could style complete functions for her clients, and hasn't looked back since!
Her interest and passion for DJing was driven by a desire to style ALL kinds of music for her client functions.  For example, if a Hindi wedding, why not be able to provide a Hindi set of music for the event?  If a New Orleans themed event, why not provide Ragtime Jazz Music to help create the theme and mood?  It was a wonderful decision, as she can  DJ and MC more than any other performance medium in the industry, and she really enjoy styling the music for her clients.
FAQs About Wedding Singers
Celestial Band Wedding Singer Melbourne
0467 375 489
Your Day, Your Way
Congratulations, you've found the love of your life and have recently become engaged! Now it's time to start creating some plans for your dream-wedding! Ms Lexi & Celestial Band specialise in providing world class, full day live music on your wedding day. Completely customisable, we normally start the day off with our Acoustic Duo or Solo musician playing at your Ceremony (while guests arrive, aisle song, signing song and exit) and keep playing throughout your Canapés hour. Then the fun really starts, as we take the beat up a notch and perform as a 4 or 5 piece traditional band for your Wedding Reception! Lexi Ross is a Melbourne born and bred Singer, Keys Player and Band Leader. Our live band is guaranteed to have your guests up on their feet dancing the night away! Have a look at our Showcase videos to see our Soloist, Acoustic Duo and full band performing! We have a generous range of special offers, plus a secret complementary pre wedding gift to give you, ensuring that you have the most amazing experience with Ms Lexi & Celestial Band in the lead up to your wedding, and on the day! Finally, we are happy to learn song requests and yes, we service the whole of Victoria!
Wedding Band Packages from Ms Lexi & Celestial Band
Below are just some ideas of our different wedding band packages you may like to choose for your Wedding or Special Event. Enquire with Ms Lexi & Celestial Band today and tell us about your ideas. You might like to book a 4 or 5 piece band for your reception as well as an Acoustic Duo for your Wedding Ceremony. With Ms Lexi & Celestial Band, we'll do our best to make your entertainment dreams come true!
Ron Kingston Wedding Band Melbourne
ronkingston.com
Ron Kingston is an Australian solo acoustic singer guitarist based in Melbourne servicing weddings, corporate events, birthdays, wineries, breweries, resorts and cruise lines catering to a wide audience. Think of Ron Kingston as your complete human jukebox music solution. Make your special occasion memorable with a 5 star rating performer!
Singer, guitarist and entertainer Ron Kingston is your perfect choice for an 'all in one' live music solution. From Australia to casinos in Las Vegas, resorts in Asia and the Middle East, cruise ships in the Caribbean and Europe, he comes fully equipped with his own PA sound system. His 1000+ repertoire of songs range from pop, soul, classic rock, R&B, smooth jazz, country, reggae, ballads right through to hits of today's biggest artists from Beatles to Bruno Mars, Michael Buble, Eric Clapton, Ed Sheeran, Stevie Wonder, Justin Timberlake, Adele and many more! Ron's performance and first class PA sound & lighting system will ensure your occasions success and your event will be an unforgettable experience!
Over the course of his career, he has produced 4 solo albums and received several awards by being one of the truly romantic artists from down under. With his unique, soulful ballads that gracefully capture the hearts of listeners such as "Only You Only Me," "Room 922" and "Make It Up to You," Ron Kingston has proven himself as the consummate vocal professional. His song, "U-Turn," is soothingly pensive with express romantic sentiment. At his best, Kingston's style features an urban sophistication and subdued soulfulness.
Born and raised in Melbourne, Australia, Ron Kingston taught himself to sing and play guitar at age 13. His apparent passion for music was inspired while mimicking his favourite actors in movies and musicals. With scraps of paper he wrote and recorded original songs that would lead him to an intriguing melancholy debut album not too long after he graduated high school. His formidable years kept him busy in and out of bands with an eye and target set firmly on the international arena. With a burning desire to make great albums and trot the globe, Kingston has now been to over 70 countries.
Ron performed a record-breaking 113 shows in a row in Japan's Summer Budweiser Music Festival and quickly sold out of his album within the first 4 weeks. In 2008, Ron Kingston performed in the Gulf for US, British and Australian soldiers serving in neighbouring Iraq and Kuwait. In 2011, while performing at Java Jazz Festival, Kingston met with American R&B recording artist Keith Martin and began working on a collection of new songs for release.
From 2013-2015 Ron toured mainland China performing hundreds of shows in Beijing, Shanghai, Guangzhou and Shenzhen which included his original songs plus popular hits. In 2016 he performed at Las Vegas casinos including House of Blues, Hard Rock Casino, Caesars Palace and many more. In 2018 Ron entertained thousands on cruise ships in the Caribbean visiting ports which included The Bahamas, Jamaica, Cuba, Puerto Rico, Mexico, Cayman Islands, Belize, Honduras and in 2019 he performed on cruise ships from the Caribbean to Bermuda and up the east coast of USA and Canada. Then the British Isles and Baltic sea performances in England, Scotland, Ireland, Denmark, Sweden, Netherlands, Russia, Finland and down through the Mediterranean from Spain to Italy. Drawing influences in his songwriting wherever his travels, Kingston continues to write and perform in some fascinating countries around the world. Ron's music is romantically charged with refreshing melodies, sensuous grooves and distinct, smooth, soulful vocals. Download Ron Kingston's songs on iTunes, Spotify or Amazon or visit the contact page for any enquiries or bookings.
Brooks And Baker Wedding Entertainment Melbourne

Phone: 0490 908 160
Email: hello@vintageentertainmentcompany.com
Website: www.vintageentertainmentcompany.com
The Wild Tonics - Vintage Vocal Trio
The Wild Tonics are a classy and elegant close harmony Hollywood style trio. Taking current and classic hits back in time to the big brassy sound of the 1920s, think Beyoncé, Bette Midler and The Boswell Sisters all meet The Great Gatsby for the first time and wow they get along like a house on fire!
Rumours Band - Wedding Entertainment Melbourne
rumoursband@optusnet.com.au
0417 182 955
Annie from Nightshift Band says a few factors add up to a wedding band being awesome, but she considers the most important one is that the musicians must love what they do. "Over the past 18 years of playing for brides and grooms, and after winning 12 industry awards, we've learnt the way to still enjoy what we do is to play music we love ourselves. And that sometimes means we can't please everyone. But nor should a band try to. That's why we specialise in genres that appeal to us: Soul, Funk and old school RnB. If musicians love the music they perform, they're going to play it well. And loving what we do shows on stage. It means we deliver a genuine, solid performance. Clients aren't stupid; they're going to know if a band is phoning in the gig."
Annie says, if you're tired of the same old wedding music mush, Nightshift Band are a great alternative. "There's something about soul and funk that reaches out and grabs people. It's universal. We find people really respond to our funky party songs, whether it's Bruno Mars or Stevie Wonder. The music hits the beat and gets you on the dance floor."
Debbi from Rumours band, is on board with the idea that live musicians are essential for quality music and a personalised atmosphere. "Live interaction is a huge point of difference from DJs or recorded music," she says. "We talk and interact with the crowd to make them comfortable enough to lose their inhibitions." Rumours band consider themselves more a 'party band' who happen to specialise in Weddings.  "Yes, we can perform all those wedding dance floor classics, but we also throw in a bad-ass mix of party tunes from all eras to get your guests (young and old) out of their chairs. Time and time again, we're told it's our energy and 'vibe' on stage that spills out onto the audience."
Debbi says mp3 players are a party killer: "It may be tempting to save the dollars and use your mp3 player, but then you have to spend hours creating a play list and what happens if no one is dancing? Who's going to change the music style to something the greater masses will respond to? Who'll encourage them to get out of their chairs and dance? Who'll constantly regulate the sound levels to ensure the music is playing loud enough to entice guests to dance, but not so loud you're hurting your guests' eardrums?"
Black Suede Band - Wedding Entertainment Melbourne
blacksuedeband.com.au
0421 988 862
But what if you just can't find a band who covers the exact repertoire you want? Well, perhaps a live band / DJ partnership is what you need. Melissa from Black Suede band says, "Our musicians offer something unique in that brides and grooms can actually 'create' their own band. Start with a DJ and vocalist, then add your favourite instruments such as guitar, saxophone, keyboard and percussion."
"Want an acoustic duo?" says Melissa. "Or a nine-piece band with brass? No problem. Consider it done."  With a team of professional, experienced musicians at their disposal, Black Suede can provide you with your own DIY bespoke band, which your family and friends have most likely never seen but will love for the exclusivity of their collaboration. There's nothing like a big, sexy line up of pro musos owning the stage. Energy and excitement are a given.
Black Suede Band pride ourselves on packing out your dance floor, and having your guests movin' and groovin' to our tunes! We have an extensive repertoire to suit mostly everybody's taste.
Orlando Combo - Wedding Band Melbourne
orlandocombo.com.au
0410 466 439
From our compact acoustic Trio line-up for sophisticated background music through to our Quintet for lively Swing and Soul material, Orlando Combo can provide the genuine live Jazz experience for your venue or next event.
Orlando Combo first formed in 1996 when the members met at the Victorian College of the Arts (University of Melbourne) whilst completing a BA in music performance. Through the experience gained from over 2000 performances the Combo has gone on to become one of Melbourne's best working bands, offering professionalism, reliability and outstanding musicianship at a reasonable price.
Orlando Combo performs regularly at all major Melbourne events including; a tournament residency at the Australian Tennis Open (5 years), AFL Grand Final, Melbourne Cup Carnival at Flemington (12 years), Presidents Cup at Royal Melbourne Golf Club, Commonwealth Games, Australian Grand Prix, Melbourne Food And Wine Festival, Queen Victoria Night Market summer series (4 years), Melbourne Spring Fashion Week , Melbourne International Motor Show, Melbourne International Flower Show, AAMI Classic tennis tournament, Taste Of Melbourne Festival. Public venue residencies in Melbourne include; The Night Cat, Crown Casino, The Botanical Hotel Sth Yarra (8 year residency), Dizzy's Jazz Club, Portsea Hotel and Half Moon Hotel  Brighton. Corporate clients include BHP, Loreal, Ericsson, Ernst & Young, ANZ, CBA, NAB, Pfizer, Accenture, Telstra, GE, IBM, LendLease, PWC, BMW, Ferrari, Mercedes-Benz, Toyota, the AFL, Amcor etc. Private function venues include Vue De Monde, the Melbourne Club, Crown Casino, Government and Parliament House, The Arts Centre, NGV, Eureka 89 and Grand/Park Hyatt's. The group has also completed a six month performance contract at the Hotel Sofitel, Vietnam. Wedding performances are also a specialty.
Orlando Combo specializes in wedding performances with the experience we have gained from well over 500 wedding bookings. By dealing directly with the bands manager (and therefore avoiding the additional 3rd party costs of a booking agency) our clients are able to receive the highest quality wedding entertainment at a reasonable price.
From our compact acoustic Trio line-up for sophisticated background music through to our Quintet for lively Swing and Soul dance material, Orlando Combo can provide the genuine live Jazz experience for your wedding.
INKASOUNDS Wedding Entertainment Melbourne 
0425 868 840
Winner Victoria's Best Live Wedding Band 2017; Entrust your music, entertainment with the dynamic, versatile & fun INKASOUNDS
Welcome to INKASOUNDS
Extensive Repertoire - Dynamic Harmonies - Awesome Sound - Experienced and Professional
Twice voted best wedding reception band in all four categories (product, service, attitude and price) entrust the highly talented, professional and versatile members of INKASOUNDS to deliver the perfect wedding soundtrack for your special day.
Available as a dynamic duo or awesome trio and performing everything from Classic Hits, Current Top 40, Pop, RnB, Jazz, Country, Indie and Rock, INKASOUNDS fresh, vibrant mix will have you and your guests singing and dancing all night long!
Continually updating and refreshing our repertoire, INKASOUNDS has one the most extensive and exciting repertoires of any band in the industry and works with you to create a romantic and fun soundtrack that best reflects you as a couple.
With over 800 songs to choose from, together we will create the perfect atmosphere for your wedding ceremony, pre-dinner, reception or special event.
Stage lighting, a cordless mic for speeches, smoke machine and break music are all included, and YES we are always happy to learn new songs and arrangements for our clients free of charge!
So drop us a line. We'd love to help make your dream wedding a reality!
Animata String Quartet - Wedding Band Melbourne 
03 9498 4134
The Best String Quartet in Melbourne!
Music speaks to each of us differently – in fact, someone who 'dances to the beat of their own drum' is said to be someone who follows their heart, very appropriate when referring to music for your wedding.
Arranging music for your ceremony and reception can be a supremely personal choice, ranging from songs which may have special meaning to your relationship to those which carry a message you consider especially relevant to your day.
Many couples now choose to have different types of music at their weddings, opting for live music at the ceremony and pre-reception drinks, then a DJ later in the evening to get the dance floor moving once dinner and speeches are over.
Whether you decide to have live music or a DJ (or a mixture of both), the Animata String Quartet is happy to work with you to create a perfect musical mix for your big day. From Mozart to Coldplay, we play a range of music which is entertaining, surprising and most importantly, from the heart.
MTA Entertainment
0400 830 849
Exceed expectations with MTA Entertainment - your professional entertainment concierge. Representing the very best, we suggest the creme of the crop.
MTA Entertainment and Events represent a wide range of performing artists - Opera, classical, jazz, world, pop, rock, theatre, comedy, circus, magic, dance, chefs, celebrities, speakers, MCs and more.
Brief us on your dream wedding, and we will make it come true. Know that you are getting the very best performers and let us design the perfect package . As experts in entertainment and creating bespoke products; why not exceed everyone's expectations (including your own)? See what is possible - seek professional advice and put entertainment in our hands. Free your wedding day stress and make the whole experience truly memorable.
Call Rebecca and Laura today! We not only know the business of entertainment but are entertainers ourselves. With over 20 years of experience, we know first hand the ins and outs of what makes a highly successful event extraordinary!
The Dancing Hen - Wedding Entertainment Melbourne 
03 9498 4904
The Dancing Hen! Voted 'Best Hen Party, Victoria' by For Every Hen Vintage Hen parties from the 1920s to 1970s. Movie themes. First Dances Wedding and Event Entertainment
Our vintage themed Dance Hen parties have lovely brides and their hens dressed to the nines and paint the town red in Melbourne!
You can pick your favourite dance style, vintage era or your most adored film to theme your party. If there is something special you have in mind - let us know! We will tailor your dance hen party, especially for you.
Don't worry if you have two left feet, Brooks and Baker will ensure everyone has a swell time. Our dance hen parties are fun and suitable for all ages and abilities!
Want to remember your special day? We love playing the cameraman too and will record your dance and take pictures for you to keep.
We always provide 2 professional performers to run your hen party in order to give you the best possible experience! This also means that we are able to capture your party on camera in detail. It's always our pleasure to gift our hens with an edited short film, as well as some fabulous photographs!
Not sure what to do for your first dance? We have a team of highly experienced wedding dance teachers who will spend time discussing your vision and choreographing your dance before your first lesson. Whether you are new to dance or have the stylings of Fred Astaire, we will create something that is right for you.
​We build your first dance based around not only your ability and requirements but your personality!
We provide private lessons in the comfort of your own home, and no previous experience is required.
Get in touch; we'd love to hear from you.
Karim Yacoub Wedding Band Melbourne 
03 9498 5122
Karim Yacoub offers sensational live music for all types of weddings and events.
Karim Yacoub is a talented Melbourne Wedding and Event Pianist specially tailoring music for the needs of your special day.
Karim Yacoub is a regular pianist for a variety of weddings, functions and special events within Melbourne. He can provide singers and an array of instrumentalists creating the perfect ensemble for your special occasion and events? Get in touch today.
Lexi Ross Wedding Music Melbourne
03 9498 3575
Lexi Ross Music is one of Melbourne's most talented wedding bands, providing premium wedding entertainment! Full band, solo or duo
Lexi and the band are guaranteed to perk anyone's ears up and get them grooving to their fresh sound and mesmerising vocals.
Book a full 4 -5 piece band to tear up the dance floor ! Or consider adding a solo or acoustic duo while guests enjoy eating canapes.
Lexi Ross Music performs contemporary cover versions of current and classic hits that will definitely leave you smiling and having a good time.
We partner with you to provide an amazing sound, which will be sure to get everyone up and rocking. Get in touch today and ask about our 4 piece band promotion!
THE BOMBASTICS WEDDING MUSICIAN MELBOURNE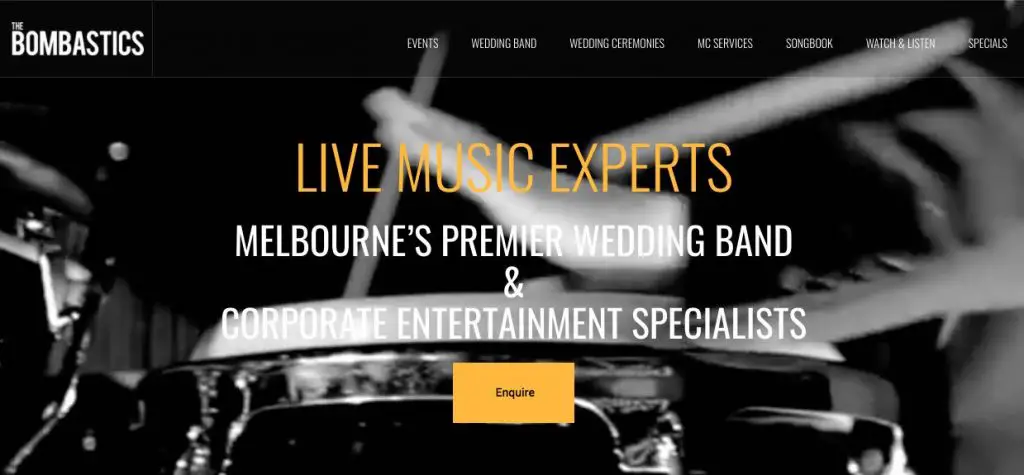 614070451
The Bombastics are a multi-award winning Melbourne band. We're a collective of Melbourne's finest musicians, meaning you get choice, flexibility and above all, reliability. Choose The Bombastics, and you know the music is in safe hands.
Finding the right band for your wedding or corporate event can be a painful process. The internet is flooded with good and not-so-good options. Save yourself hours of planning time by getting in touch with The Bombastics today. Discover our exceptional service, attention to detail and best of all, our fantastic sound.
Explore our audio, video and song list, see us at our next showcase or for great advice on planning wedding and event music see our FAQs and check out the blog.
EXPERIENCE MATTERS
The Bombastics are a collective of musicians who have performed over 300 weddings for the couples of Melbourne and Victoria. Our talented musicians have also performed and recorded with artists including Pink, Goyte, Martha Wainwright, The Bamboos, The Cat Empire, Dan Sultan, The Androids, Kate Ceberano and Daryl Cotton.
PASSIONATE AND PROFESSIONAL
You won't find a band in Melbourne more professional and committed to perfecting the music on your special day. We work with you from the first email to the last song of the night to ensure you're wedding theme is everything you've dreamed of. Get in touch and experience our superior service and commitment to our couples.
INDUSTRY LEADERS
Multi-award winning, we've graced the stages of Australia's premier venues including The Sidney Myer Music Bowl, The Melbourne Cricket Ground, The Sydney Opera House, The Melbourne Convention Centre, Flemington Racecourse, The Palladium and The Palms Ballrooms at Crown Casino.
THE BOMBASTICS WEDDING BAND
At The Bombastics, a Melbourne wedding band, we pride ourselves on making every bride and groom's reception the dream party they've always imagined. If you've spent hours scrolling the internet looking at all the wedding music on offer you're probably starting to feel a little overwhelmed. Look no further.
As Melbourne's leading wedding band, couples continue to choose The Bombastics to provide live music like no other. However, being great wedding music performers is only part of the reason. We offer very competitive prices and exceptional service that you won't get from other Melbourne wedding bands.
During the wedding reception, we offer a range of music services including:
Background acoustic songs or background jazz early in the reception
Party songs from a range of genres including rock, pop, top 40, soul and disco for later in the reception
A live band performance of your requested bridal dance
Perfectly balanced PA system so that it's loud enough on the dance floor, but guests at tables can still chat
Other additional features like dance floor lighting and a microphone for the MC.
OPTIONS
RECEPTION MUSIC
When was the last time you booked a band for a wedding? Our guess is never! Choosing your band can be a confusing and time-consuming process. Take the guesswork and hassle out of finding your wedding band. Explore our Reception Music page and find out how we make it easy to book the perfect wedding music.
CEREMONY MUSIC
We offer live ceremony music for all budgets and styles. Acoustic guitar and vocals, classical piano, string quartets and everything in between – having your ceremony accompanied by live musicians is an investment worth making. Check out our Ceremony Music page for sample audio and helpful hints.
MC SERVICES
It's not always easy choosing the right family member or friend to MC your wedding. Let everyone enjoy the night, and we'll take care of MCing your big day. Our experienced MCs are relaxed, fun and most of all, know-how to ensure the night runs smoothly. Check out our MC Services page to learn about the value a great MC will make to your day.
PERFECT CEREMONIES HAVE LIVE MUSIC
Live music at the ceremony is the most under-considered part of planning a wedding. It transforms the most touching moments of the day from impressive, to beautiful beyond words. Subtle, correctly performed songs and pieces are how The Bombastics musicians turn your day into something better than you ever imagined. Explore the options below, listen to our samples and get in touch for a quote. We have excellent offers when you combine our reception band with ceremony music. You'll be pleasantly surprised at the price.
LIVE MUSIC. THE CEREMONY SAVIOUR.
Picture the bride and her bridesmaids walking down the aisle. Imagine no music playing at that moment. Awkward! Now imagine hearing beautiful music, the original recording of a song chosen by the bride and groom then it finishes. And the bride is halfway to the altar. Awkward again! Live music fixes this disaster. After hundreds of ceremonies, we know the value of an extended intro, an extra chorus, or the ever-useful interlude. Our live performances have saved many brides and their guests from a less-than-perfect moment. Don't settle for less-than-perfect. Choose perfect. Choose The Bombastics for your wedding ceremony.
CELESTIAL BAND-  WEDDING MUSICIAN MELBOURNE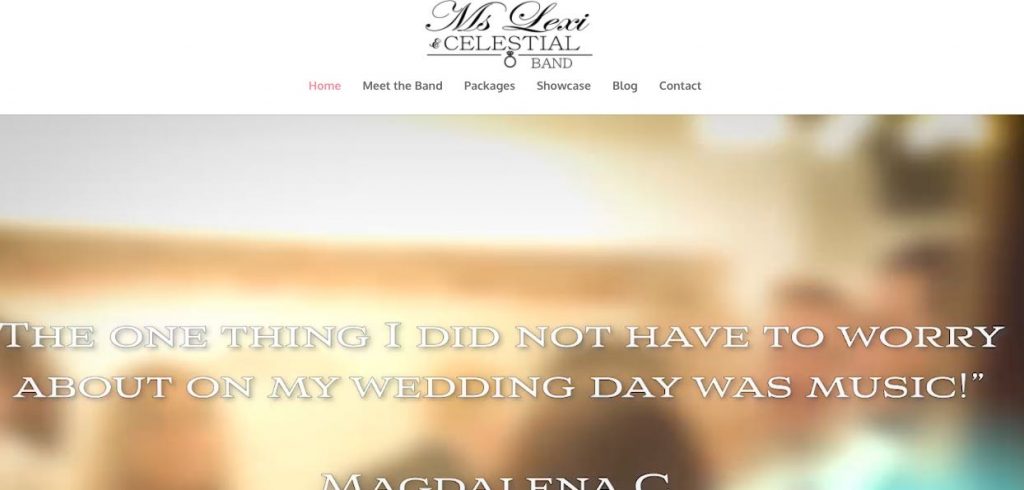 46737548
GUARANTEED TO GET THE DANCE FLOOR PUMPING!
The celestial band is an exciting Melbourne based band for Weddings and Corporate Events!
The talented musicians and singers in Celestial Band met in 2017 and have continued playing live music together ever since. With four singers among their customisable band of 6, Celestial Band is guaranteed to get everyone up and dancing at your next event! Whether you are looking for a soloist, acoustic duo, or full band, Celestial Band has your entertainment covered!
WHAT MAKES CELESTIAL BAND DIFFERENT?
We are Melbourne's most professional and entertaining wedding band! Highly talented and organised, we are guaranteed to have your dance floor pumping! Female owned and operated, and you can trust us to look after the live music for your wedding or special event, from start to finish!
YO MAMA WEDDING MUSICIAN MELBOURNE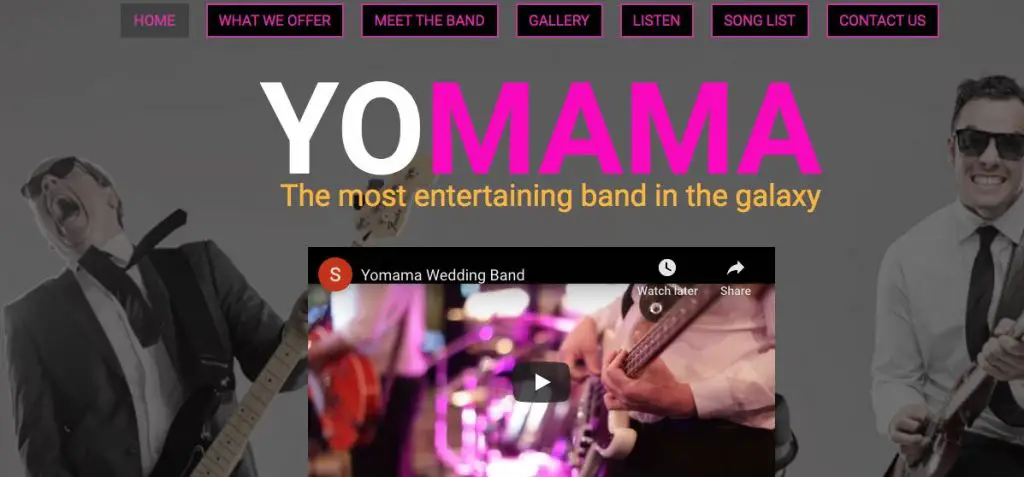 42288714
PLANNING YOUR WEDDING/ CORPORATE EVENT? LOOKING FOR A FUN NIGHT OUT?
Yomama isn't your ordinary act. Music is supposed to be fun; it's supposed to get people dancing and having an unforgettable time at your event. That's what we do!
Yo mama always puts on a show, and we play from the heart. We play with energy and excitement. This is our genuine passion, entertaining people with great music. We love what we do, and we want to make sure that when we play at your event, you love what we do as well.
50's, 60's, 70's, 80's, 90's, 00's current and Top 40. We do it all, and we sound good doing it, LISTEN HERE.
We provide Lighting, PA system, Sound Engineers and four guys who are ready to make your night as fun as it can possibly be, all while delivering a high-quality show that is guaranteed to have your guests dancing and leaving with a smile on their face.
So if you're looking for a brand that is 100% focused on making your night as fantastic as it should be, then look no further, you found them!
WE ARE AVAILABLE FOR WEDDINGS, CORPORATE EVENTS, PUB SHOWS AND PARTIES.
Yo mama can cater for any event.
Whether it be a small function/ wedding, a crazy pub, colossal wedding or a large party, Yomama will have the crowd dancing. We provide what most other wedding bands offer in terms of equipment and services, and we will not use this page to write 500 paragraphs trying to convince you that the service we offer is better.
We're just a little more fun!
GROOVE JUNCTION ENTERTAINMENT WEDDING MUSICIAN MELBOURNE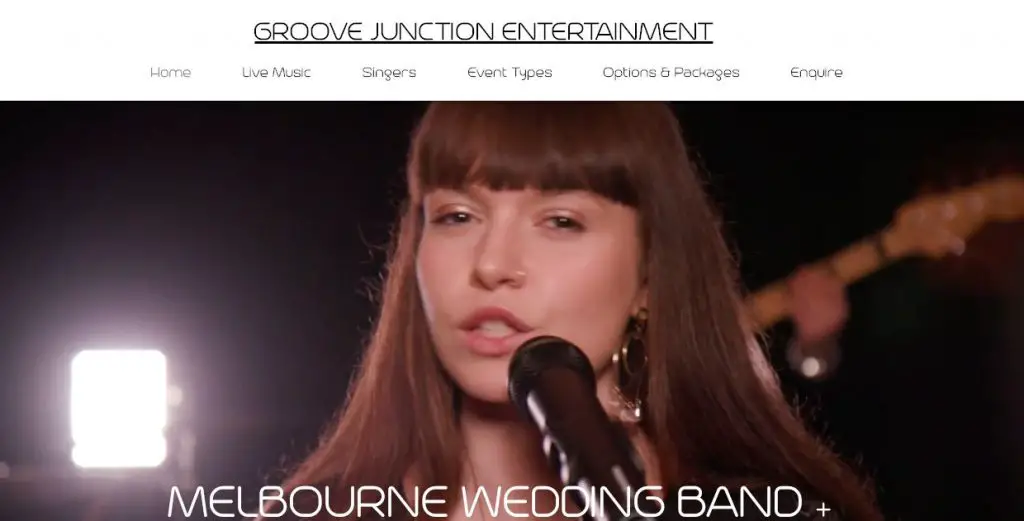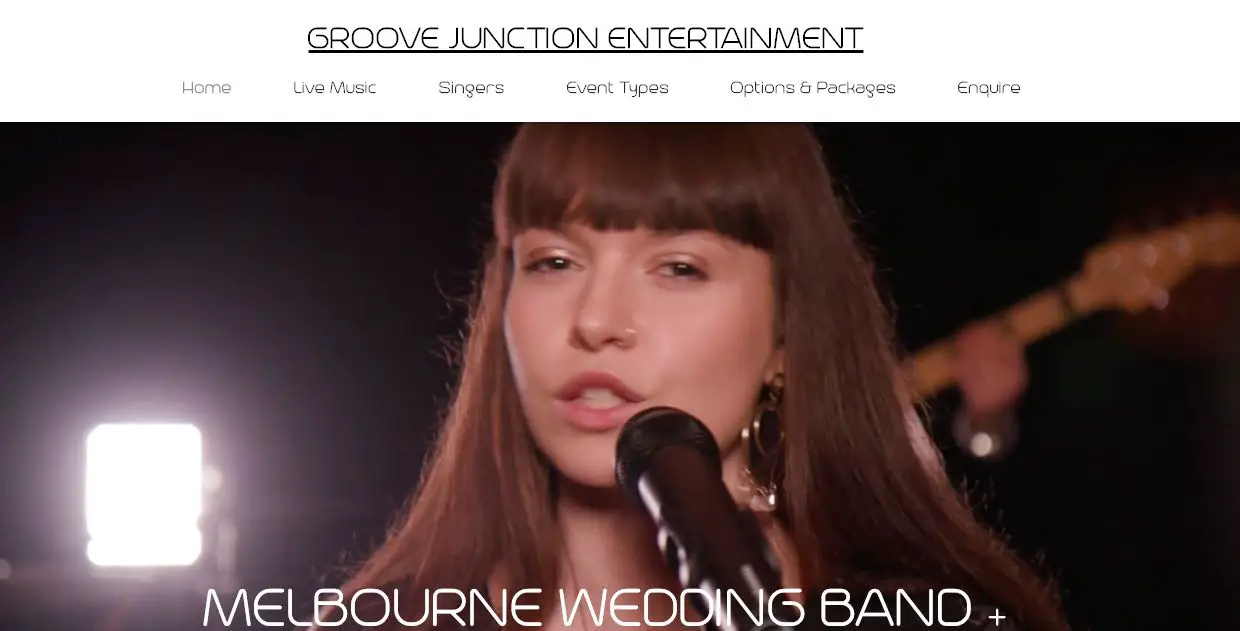 Groovejunctionentertainment.com.au
42425728
MELBOURNE'S PREMIER CORPORATE + WEDDING BAND HIRE
Groove Junction Entertainment offers live music entertainment services by the finest musicians performing in Melbourne, Victoria and Australia complete. Specialising in Corporate Events, Wedding Entertainment and Private Parties, our live band will take your event to the next level.
​Providing a first-class entertainment experience, our wedding bands are available in a 3-10 piece band format. We also offer acoustic duos, solo performers and DJ services.
Enquire now to find out why Groove Junction is one of Melbourne's most popular cover bands for functions and weddings!
WEDDING ENTERTAINMENT MELBOURNE
WE SPECIALISE IN WEDDING ENTERTAINMENT IN MELBOURNE & VIC
Groove Junction is experienced in creating the perfect Wedding Entertainment for couples in Melbourne and VIC complete. Weddings are a particular time in our lives full of excitement and celebration.
Every couple has something unique and special in mind for their live wedding music, which is why Groove Junction works personally with you at every step of the way.
Our live wedding musicians can help make your day extra special with experience in performing for intimate weddings of 20 people to large weddings of more than 400.
CREATE YOUR PERFECT WEDDING ENTERTAINMENT EXPERIENCE
Our Wedding Entertainment is offered in a range of packages designed to match the mood at each stage of the day.
Create an intimate and romantic atmosphere with our Acoustic Duos and Solo Artists as your ceremony unfolds or as guests mingle over canapes. Music is the life and soul of any party, and there is nothing like a live wedding band at your reception to get everyone, young and old on the dance floor. Then, keep the party going with our wedding DJ who knows how to keep the night alive.
Groove Junction is not just a Melbourne wedding band. We have enjoyed performing in the Yarra Valley, Mornington Peninsula, Ballarat and Bendigo. Don't hesitate to contact us no matter the location.
WEDDING BAND HIRE MELBOURNE
CELEBRATE WITH LIVE WEDDING MUSIC BY MELBOURNE'S BEST MUSICIANS
Groove Junction Entertainment Wedding Band is the premier choice for Wedding Entertainment in Melbourne and Australia Wide.
Our talented musicians understand that it is your special day. We will work with you to tailor your wedding music to your specific needs at each step of the way. From the ceremony and reception to the dance floor, Groove Junction is here to create your perfect live music experience.
The emotions shape our best memories that great music can evoke. Our professional musicians are experts in creating special moments that will ensure your wedding entertainment creates a unique and unforgettable experience.
TAILORED WEDDING ENTERTAINMENT
Our wedding band is available in a range of options to ensure your wedding music suits your event perfectly. Choose from a four-piece to 9 piece format with a horn section.
We also have a selection of Melbourne's finest singers, each with unique styles and sounds. Groove Junction Wedding Band perform a diverse array of dance floor packing classics. Our Wedding Song list includes Pop, Reggae, Funk, Soul, R&B and Jazz music.
​Add a DJ, or Acoustic Duo to your band package to treat your wedding guests even more!
​Enquire today find out why Groove Junction Entertainment is fast becoming one of the most popular wedding bands in Melbourne
THE WHITE TREE WEDDING MUSICIAN MELBOURNE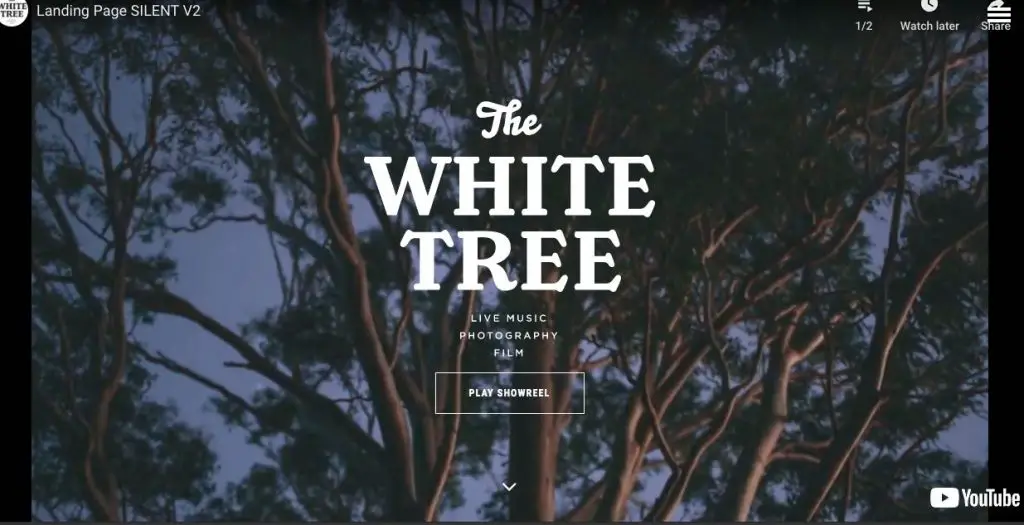 42573577
CREATING & CAPTURING EPIC MEMORIES SINCE 2010
COVID-19 Update: The White Tree has been filling dance floors and capturing epic memories for over ten years, and you can rest assured that we will be doing so for another 10! We know that planning weddings or events are challenging during this current landscape, but we are here to help you. And...things are on the up! We are back showcasing at live venues across Melbourne, Sydney and Brisbane, which is exciting if you are recently engaged and interested in our services. Jump onto our showcases page to see when we're next performing near you.
THE WHITE TREE BAND
We're dance floor legends! We pride ourselves on our energetic live shows, versatile configurations, entertaining showcases, and a varied repertoire to keep every punter happy. At one gig we'll be performing funk and soul with a brass section, and at the next gig we'll be belting out tracks by Tay Tay, The Stones, The Killers, Billie Eilish … and everything in between!
Our musicians and DJs are based primarily in Melbourne, Sydney, Brisbane, Perth, Adelaide, Hobart and the beautiful Byron Bay. However, we perform all around the world and love to travel wherever the party's at.
SOULECTIVE BAND WEDDING MUSICIAN MELBOURNE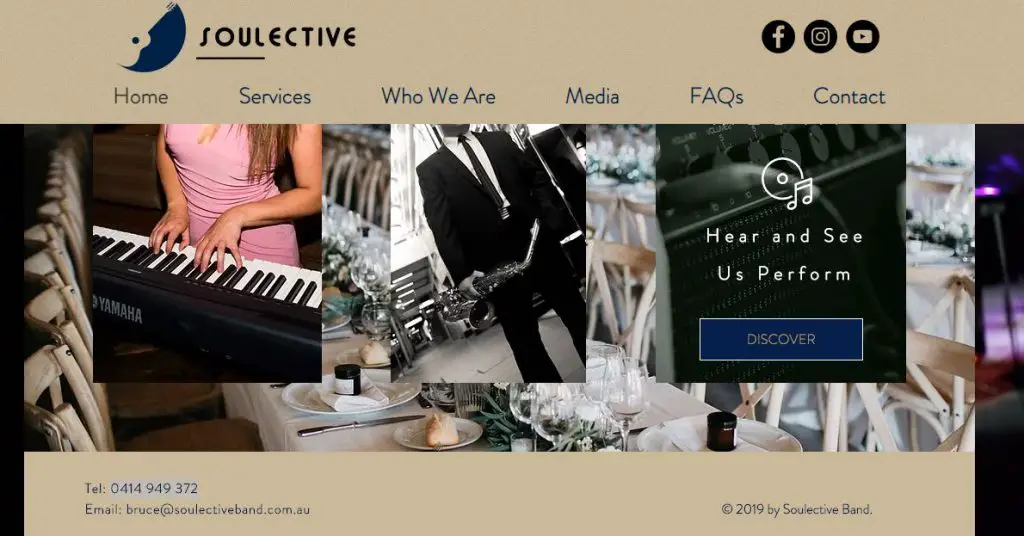 41494937
Building on over 20 years of live performance and recording experience with groups and bands of all sizes and genres, Selective was born from the concept of pulling together a collective of some of Australia's most experienced, in-demand and talented musicians with the same objective in mind. Giving you, the client, the best experience in live entertainment for your function or event.
​Being one of only a handful of full-time bands in Melbourne (every member is a full-time crew member) ensures we can consistently deliver on what we promise and to provide the same level of professionalism, sound quality and energy to all our performances.
WEDDINGS - PACKAGES
Congratulations on your engagement!! You've just started your search on the right entertainment for your special day, but you've no idea where to start. Contact us today to enquire about the range of options Soulective can provide you and your guests on your special day. From solo to duo acts for your ceremony, right through to the full Soulective Band Experience, we will have an option that will fit into your theme.
SOLO? DUO? BAND?
Having had the privilege of taking part in several hundred weddings, we know and understand that no one wedding is the same as the next. As a result, we offer bespoke packages in consultation with you that will meet your exact requirements on your special day. Whether it's a small intimate setting, a formal black-tie event or an all-out party extravaganza, Selective will create an experience that you and your guests will not soon forget.
ON THE DAY
Selective prides itself on efficient management and coordination with your venue of choice and your wedding/event coordinator. Our sound equipment will be set up and sound checked before your guests arrive. One of our specialist consultants will also be on-site during your event to liaise with the venue and to ensure that everything runs on time and according to your run sheet.
HEY JACK WEDDING MUSICIAN MELBOURNE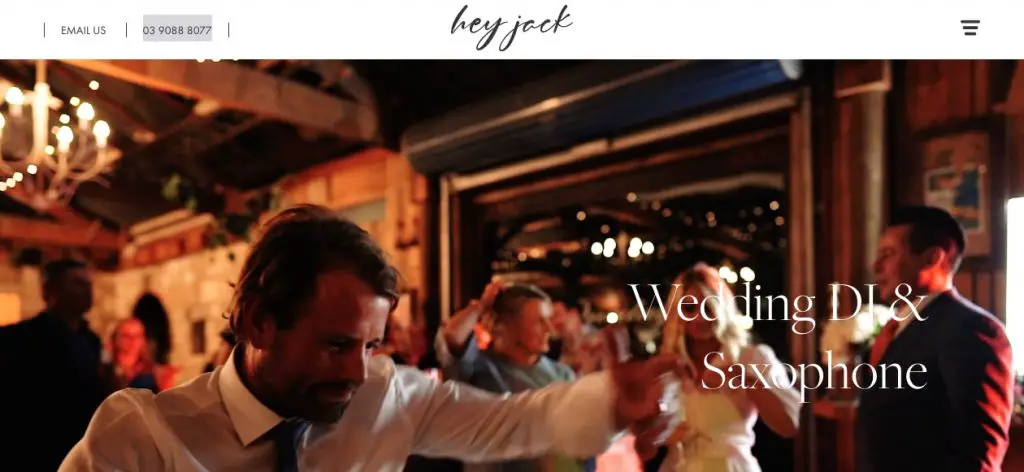 heyjack.com.au
WE HAVE A LOVE AFFAIR WITH CREATING & CAPTURING GOOD TIMES THAT YOUR GUESTS WILL REMEMBER
We are Melbourne's best wedding entertainment and film company. We carefully select a small group of award-winning musicians and filmmakers, and our mission is to make sure you and your guests have a great time. We'll bring the music, you get the moves and together – we'll make the best memories.
FEATURED ACOUSTIC ARTISTS
There are some extraordinarily talented musicians on our team. Our Melbourne wedding bands and acoustic duos have been hand-picked to give you a choice of different styles and genres. Whether you're after an acoustic duo for your ceremony, a reception DJ, hybrid soloist or even a saxophonist – we've got you covered.
WEDDING FILMS
Capturing the big thing the little things and everything in between. Hey, Jack specialise in creating timeless, bespoke wedding videos by capturing all the fun, excitement and romance of your big day! Whether your wedding is luxury or rustic, a platinum bash or destination elopement, in a ballroom or on the beach, what matters most are capturing the incredible moments you share with family and friends.
ULTIMATE CEREMONY MUSIC // HEY JACK TRIO
The Hey Jack Trio is an exclusive act, performing the most romantic covers perfect for your wedding ceremony. Adi on Cello, Jordyn on vocals paired with her guitarist, this is the ultimate act to get the tears flowing and add some magic to your wedding ceremony and canapés
Tips for Choosing Wedding Bands
After you get engaged, you are swept right into the world of wedding planning with many to-dos, including choosing wedding bands, on your list. With so many wedding band styles to choose from, picking your perfect match can seem a bit daunting. Consider these helpful tips before starting your search.
Make sure that the band are professionals and music is their full-time job
Pro musicians know how to work the room and bring the best out of each other as well as their audience, they put there set together with such detail so the dance floor is full for the whole evening whilst taking you on a musical journey the best wedding bands make the crowd feel like they are a part of it.
Make sure the band play the music you like
it sounds so simple but you can easily get it wrong there is no point booking a jazz band if you really want to let loose kick off your heels and dance the night away. It is your day but think of your guests and who is most likely to be filling the floor for the whole evening, happy guests create the best weddings. Guests tend to remember the feeling and Atmosphere rather than the colour scheme.
Make sure they'll take requests
When it comes to hiring a wedding DJ in the DC area, requests shouldn't be a problem. But they become a bit more complicated if you hire a live band.
Unlike DJs, bands typically don't have access to thousands of songs. They have a specific set list they can turn to, meaning your wedding song requests could go unanswered.
As you begin your search, try to come up with a variety of songs you could potentially have played at your wedding. That way, your bands can tell you whether they're intimately experienced with these genres.
Sign a contract. Always.
Having a contract in place is a good idea for each and every single one of your wedding vendors, entertainment included.
Your entertainment contract should include the performer's fee, arrival/finish times, and any other extras you want to include.
For example, some performers bring their own supplies, but others may wish to use existing speakers or cabling.
You also want to outline cancellation fees, while establishing a fail-safe in case someone in the band falls ill.